How to Choose a Moissanite Engagement Ring
Feb 28,2023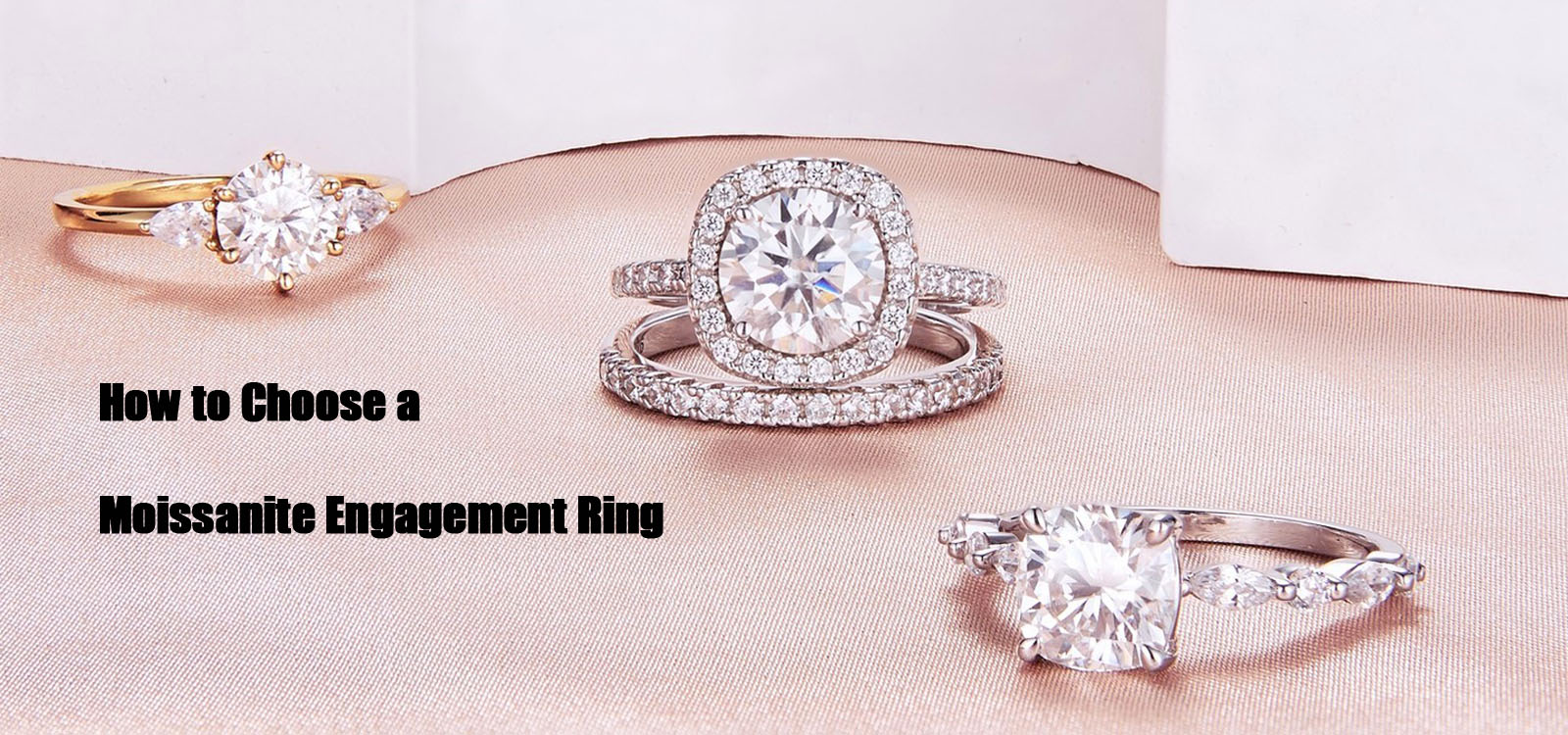 If you're searching for an engagement ring, moissanite may have crossed your mind. This gemstone has seen a recent surge in popularity as an affordable and eco-friendly alternative to diamonds. But with so many choices available, it can be difficult to know where to begin your search. In this guide, we'll cover everything you need to know about selecting a moissanite engagement ring that will leave your partner delighted and mesmerized.
How to Choose a Moissanite Engagement Ring
Let's get into the specifics of how to choose the right one for your partner.
Know Your Partner's Style
Before you start shopping, take some time to consider your partner's personal style. Do they prefer classic timeless pieces or do they prefer making a statement with bold contemporary pieces? Are they drawn to delicate yet statement jewelry or do they prefer wearing chunky rings? Take note of any jewelry your partner currently wears to get an idea of their taste.
Be Acquainted with the 4 Cs
Like diamonds, moissanite is graded on the basis of four Cs: carat weight, color, clarity and cut. Here's what to know about each one:
Carat Weight: Moissanite is typically sold in carats, with larger stones being more costly.
Color: This mineral's hue ranges from D (colorless) to K (slightly tinted).
Clarity: Moissanite has an optical clarity rating of 93% to 100%; however some stones may contain small inclusions or blemishes.
Cut: A moissanite stone's cut determines its overall shape and brilliance. Look for a stone with an excellent cut for maximum sparkle.
Decide on a Style
When selecting an engagement ring, remember that the setting plays a major role in its aesthetic appeal. Popular options include:
Solitaire: With just one stone set on a plain band, this classic style puts all the focus on the center stone.
Halo: Encircling the center stone with an array of smaller stones creates the illusion of a larger center stone by adding extra sparkle and dimension.
Three-Stone Engagement Ring: Three stones of equal size set in a row signify the past, present, and future of your relationship.
Vintage: An antique or vintage-inspired setting can add an aged charm to your engagement ring.
Consider the Ring Setting
Your ring's setting plays a significant role in its aesthetic appeal and feel. Finding the perfect setting can enhance the beauty of your moissanite engagement ring, making it even more stunning. There are several popular ring settings to choose from:
Prong Setting: The prong setting is one of the most popular ring settings, where small metal prongs hold the stone securely in place. This style offers maximum light exposure for stunning sparkle in your gemstone. Prong settings come in various styles like four-prong, six-prong, or eight-prong; you can customize them according to your preferences.
Bezel Setting: This setting features a thin metal rim surrounding the stone, holding it securely in place and giving off an elegant and modern appearance.
Pave Setting: This setting features numerous small diamonds or other stones set closely together around the band, giving off a shimmery, diamond-encrusted appearance.
Channel Setting: This setting features the stones set within two metal walls that hold them securely in place. It's ideal for those seeking to add an air of elegance to their ring.
You may want to know: The Ultimate Guide To Types Of Ring Prongs
Establish Your Budget
Your budget should be taken into account when selecting a moissanite engagement ring. Although these rings tend to be cheaper than diamond engagement rings, prices can vary based on factors like stone size, shape, quality, and setting. Therefore, setting an amount aside before shopping for the ring helps guarantee you don't go overboard with spending.
Why Choose Moissanite Engagement Rings?
Before we delve into the specifics of selecting a moissanite engagement ring, let's first discuss why you should choose moissanite instead of a traditional diamond.
Affordability: Moissanite is more cost-effective than diamonds, allowing you to purchase larger stones or intricate designs within your budget.
Brilliance: Moissanite has a higher refractive index than diamonds, meaning it gleams more and has greater fire.
Durability: Moissanite is almost as hard as diamond, making it ideal for everyday wear.
FAQs
Is moissanite as durable as diamond?
Absolutely! In fact, moissanite has almost the same hardness level as diamonds - making it an excellent option for daily use.
How Do I Care for My Moissanite Engagement Ring?
Moissanite is an easy gemstone to maintain. Just clean it with warm water and mild soap, or take it to a jeweler for professional cleaning services.
Can my moissanite ring be resized?
Absolutely, just like diamond rings can be.
Are moissanite engagement rings ethical?
Yes, moissanite engagement rings can be considered an ethical option since they were created in a lab-created stone, unlike diamonds which may come from unethical mining practices.
Conclusion
Moissanite engagement rings can be an ideal choice for those seeking a beautiful, affordable, and ethical alternative to traditional diamond engagement rings. By considering factors like shape, size, setting, and budget you will find the ideal moissanite ring that best represents your love and commitment to your partner. So don't wait any longer - start searching today for your ideal moissanite engagement ring!
Comment