White Topaz vs Moissanite: Which Is the Perfect Stone for You?
Dec 08,2022
Are you unsure which is better, moissanite , or white topaz?
This is the place to be. Within this Learning Guide, we're putting white topazes vs moissanite.
They might appear identical from afar however they're very different stones. These come from different places and in various ways. Let's examine the formation of making moissanite vs white topazes.
Moissanite
The majority of moissanite is grown in labs. Moissanite occurs naturally and is more scarce than diamonds, but it only occurs in tiny amounts. It was first discovered within a crater of a meteorite in Arizona, United States by famous Nobel prize winner Dr. Henri Moissan. It wasn't until more than 100 years later, that scientists were able to recreate an innovative moissanite laboratory growth process.
White Topaz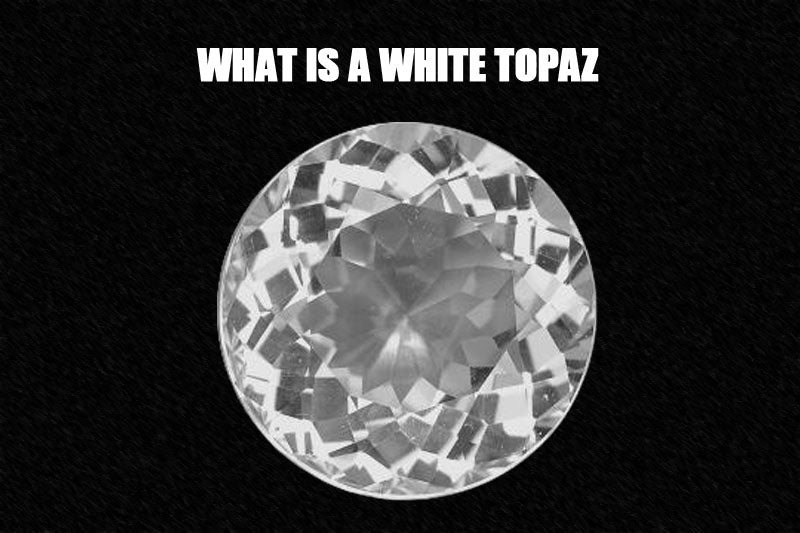 Natural white topaz is created on the earth. White topaz is pure topaz but topaz stones are available in a variety of shades. The most popular are yellow topaz and blue topaz, which are also known as Imperial topaz.
The topaz stone is a popular mineral that is found all over the globe in locations like Zimbabwe, Namibia, Myanmar, Sri Lanka, and the United States, but most topaz stones are sourced from Brazil.
In contemporary jewelry, you will often observe white topaz as a diamond-like substitute for gemstones in rings. It's often compared with other colorless or white stones that resemble diamonds such as white sapphires, cubic zirconia, and moissanite.
White Topaz vs Moissanite
Let's look deeper into the fundamental differences between them.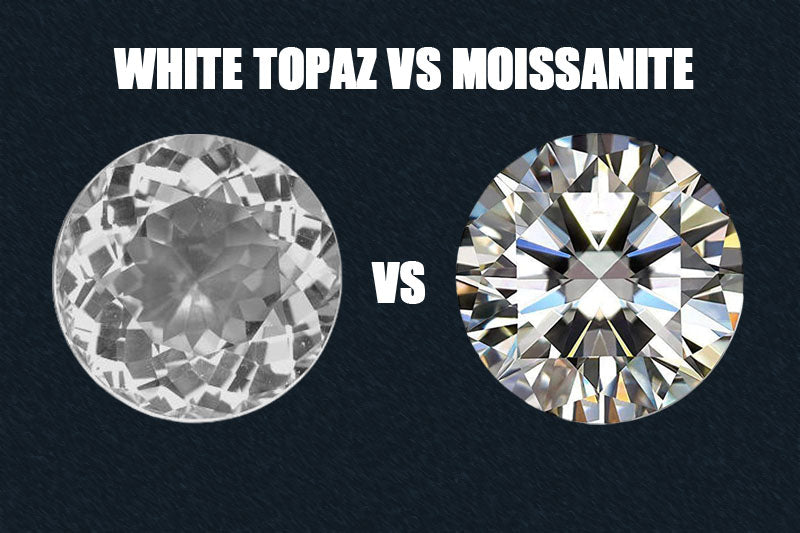 Brilliance and Fire
This brilliance can be easily measured value, making the comparisons quite simple. The white topaz's RI is 1.6. This places it in a lower than moissanite. Moissanite contrasts this lower rating with its RI score of about 2.7.
The white topaz vs. Moissanite comparison indicates that moissanite is more sparkle than white topaz. Moissanite is even rated well enough on the RI scale to be able to outdo real diamonds.
The stones also emit fire and reflect colored or rainbow light. Moissanite also emits vivid reflective color. It can be seen in certain cases and under certain lighting. Moissanite has more brilliance than many other stones like diamonds, white sapphire, and White Topaz...
White topaz can appear stunning in the perfect lighting conditions at the jewelry shop However, be aware that this sparkle and shine won't last. Scratches will build up and the stone will start to appear dull and cloudy.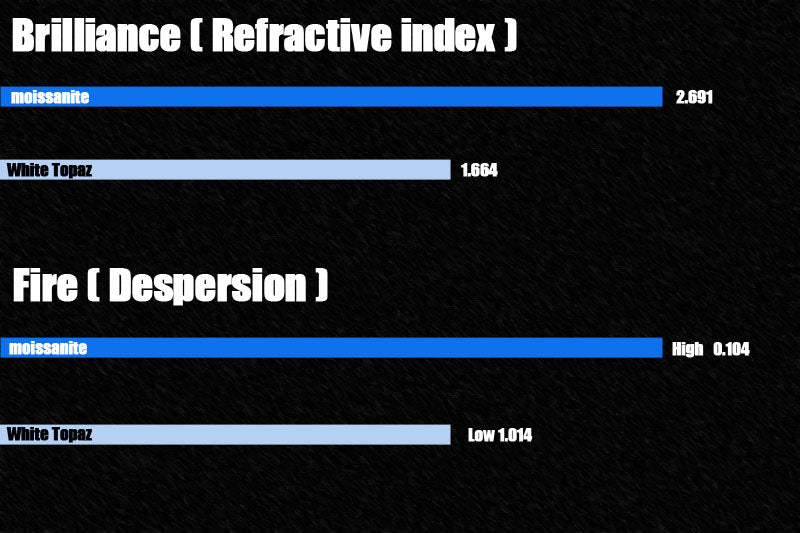 Color
White Topaz is a type of Topaz that is available as either a colorless or clear stone. It is an organic silicate that is available in a variety of shades.
The purest version of Topaz is clear, milky white, or colorless. The most popular shades of Topaz are neutral, light yellow, and brown. Blue Topaz is the most well-known color for Topaz. Imperial Topaz is the most expensive and rare color of Topaz and can range from golden yellow to pink.
Topaz is also often treated to create different colors and saturation that aren't commonly found. White Topaz is usually treated with radiation to make it more valuable by heating the stone in order to give it the most sought-after color, blue.
Moissanite like diamonds is typically clear. Although the scale of the GIA doesn't officially classify this stone, jewelers utilize it to show the stone's color and clarity.
There are three types of moissanite in the market today. The three grades are colors that are colorless (D-F) Near-colorless (G-I) and faint shades of hue (J-K). D is the colorless diamond, and as you move down the scale, the diamonds become less crystal clear.
Hardness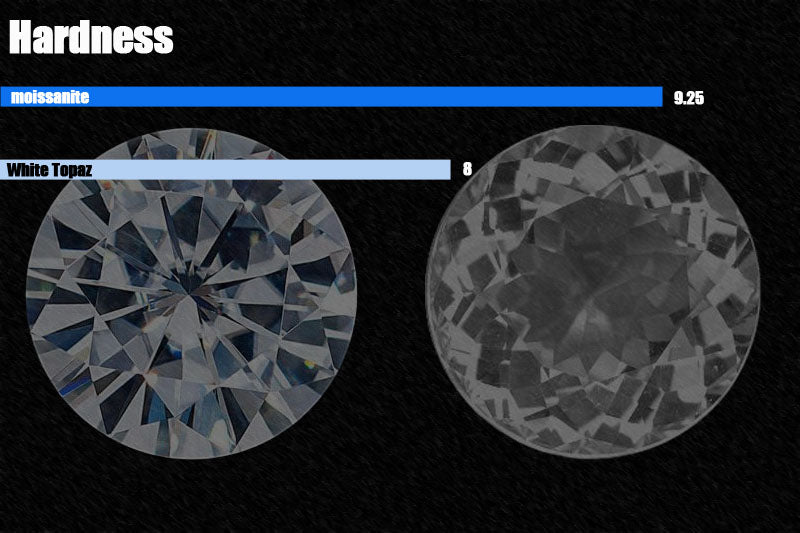 The Mohs Scale of Hardness measures the strength of a gem. In comparing the hardness of white topaz with moissanite. Moissanite ranks first on the list.

White topaz is less robust and has a Mohs rating of 8. Moissanite is much more durable and has a Mohs grade of 9.25. The difference of 1.25 is sufficient to grant moissanite a significant advantage in comparison to white topaz. The white topaz vs . moissanite test of hardness reveals moissanite to be the most obvious winner.
Price
We are now getting to the most important aspect: the cost of white Topaz against the price of moissanite. The cost of the Moissanite although lower than diamonds is higher than the white Topaz the price of. It is a natural stone which are rare even if it must be manufactured in the lab. The market fluctuations and overall quality of the stone can also affect its cost.
Inclusions
Topaz has inclusions in the same way that all gemstones have that feature. A gem that has fewer or smaller internal flaws comes with more of a cost tag. Keep this in mind since it affects the clarity of the gemstone.
The artificially produced moissanite is formed in perfect conditions, making imperfections less common. Artificially-created gemstones generally have better clarity.
You may want to know:Does Moissanite Have Inclusions
Conclusion
If you're searching for the same appearance and sparkle of diamonds for your gemstone it is Moissanite is the best option. White topaz is simply not as good as Moissanite because of its rainbow-colored glitter as well as its clarity. It will also become cloudy as time passes!
Moissanite has one important disadvantage, however. It's higher in price per carat than white quartz. If cost isn't a major element, you should choose moissanite instead of white topaz.
Comment