What is Rose Cut?
Sep 20,2022
Moissanite engagement rings can be a stunning and cost-effective alternative to engagement rings made of diamond. They come in a variety of designs and colors to fit all tastes.
When you're looking for the perfect moissanite ring may have encountered the phrase "rose cut". At the first sight, "rose cut " may suggest an entirely different style. One could think the "rose cut" may look like a beautiful floral-shaped stone.
In reality, though, a rose cut is a cut, not a shape. Let's take a look at a cut that is experiencing an incredible resurgence within modern jewelry: the Rose Cut.
What is Rose Cut?
Rose cut was first applied to diamonds! A diamond cut in rose is a diamond decorated with triangular facets on its top (aka without a single table facet) and usually flat at its bottom. The number of facets may vary from as little as 3 to as high as 24 that end at the top of the same apex.
The faceting of the apex is intended to resemble the petals swirling around in roses! Since most rose cuts don't have pavilion (bottom) faces and emit soft, billowy sparkle instead of a sparkling one.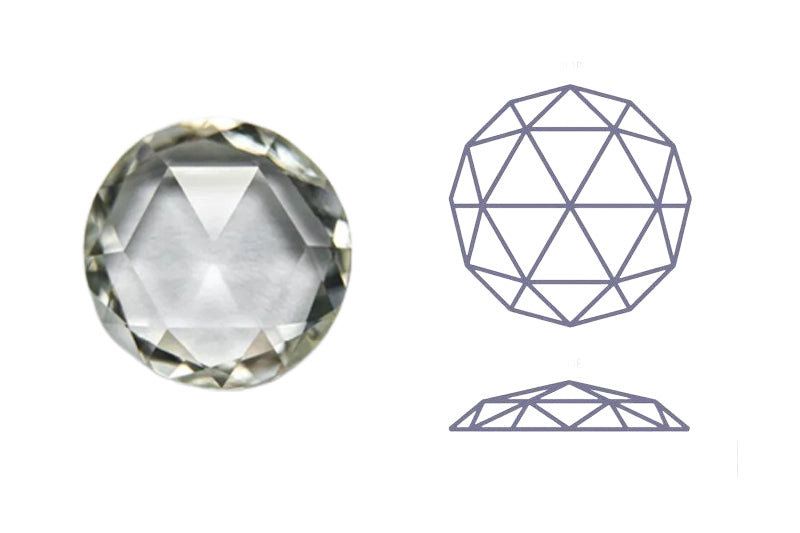 The rose cut diamond days were right back to the 1500s. This makes it among the oldest diamond designs in the world, yet many people haven't ever heard of it. The origin of this diamond shape was from the Dutch region of Europe The diamond cut in the rose was popular for a long period of time.
The rose cut went out of fashion due to the rise of modern fashions in jewelry and was gone to the popularity of diamonds with brilliant cuts in the 20th century.
In the last few years, the rose cut diamond has come roaring back into usage. As more people look for alternative designs to the standard cuts of diamonds the rose cut offers an elegant, yet simple and unique design that is full of appeal.
Rose Cut vs. Brilliant Cut
Faceting
Whereas brilliant cut diamonds or moissanite are characterized by big, level tables, the rose cut diamonds or moissanite are known for their trademark domed top. The standard number of facets in brilliant cuts ranges somewhere between 57-58. In terms of the number of faces within the rose cut, it can be very different in the range of three to 27. The cut rose facets are always triangular.
Bottom Shape
The traditional brilliant diamonds or moissanite are cut to give maximum sparkle. The peaked top has been designed so that it reflects the light back to the viewer for a stunning shine. Rose-cut diamonds or moissanite, however, are distinguished in their flat bottom. It does not have the pointed pavilion of conventional brilliant diamonds or moissanite. The rose-cut diamonds or moissanite are closer to their skins than their taller counterparts.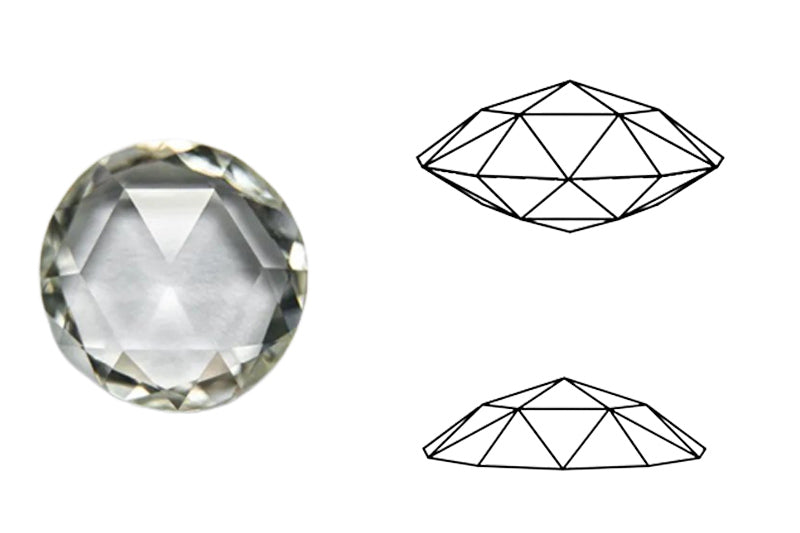 Apparent Size
Due to their shape, the rose-cut diamonds or moissanite look bigger in comparison to other cuts of diamonds or moissanite when observed from above. They're known as having greater "spread," so a rose cut diamond or moissanite can appear to be the same in size as a round one with twice the carat weight.
Although rose cut diamonds or moissanite can be found in a range sizes of carats they're an uncommon form of a diamond. It shouldn't be a reason to steer you away from a rose cut however, it can help you understand the fact that it might take longer to locate the perfect rose cut that has features that you enjoy and in the weight of carats you're looking for.
Brilliance
The numerous facets and the deep cone-shaped bottom of a brilliant diamond or moissanite have been designed in order to absorb and reflect as much light as possible. Thus, the sparkling shine. Rose-cut diamonds or moissanite don't feature pavilions.
This means that the light returning, also known as that is the quantity of light bounced back by a diamond, is much weaker than that of a brilliant cut diamond like an oval, pear, or marquise cut. This is why rose-cut diamonds have an extra clear, glass-like appeal, unlike the flashy glitter of the most contemporary diamond cuts.
When to Go Rose: Pros & Cons
Pros
Rose-cut diamonds or moissanite look to be larger than brilliant cuts of the same weight in carats.
The cut isn't restricted to any specific shape but can be cut into numerous various shapes.
They are very rare and they're pretty distinctive.
They are much more durable and lightweight than other cuts.
Cons
TThey're not as sparkling as the brilliant cut.
Finding the right diamond for you could be difficult since they are extremely rare.
Since the diamond cut in rose is cut manually, there may be small imperfections or asymmetries on the facets.
It's not easy to find pricing information that is widely available to aid in drawing comparisons of costs.
You may want to know: Brilliant Vs Crushed Ice
Comment