What is a Gypsy Set Engagement Ring
Nov 19,2022
There are several stunning setups to select from when you pick moissanite jewelry.
Typical Settings for stones can consist of prongs, bezels, channels, pavé, and so on. Yet you may likewise have actually come across a gypsy setting as well as wondered just what is a gypsy setting ring.
Table of contents

What Is The Difference Between Bezel and Gypsy Setting?

Is A Gypsy Setting Good For An Engagement Ring?
What is a Gypsy Setting?
A Gypsy set ring normally includes one or more gems established flush in a premium metal setup, like yellow gold or platinum with no visible prongs. Jewelers utilize a burnishing tool to secure the metal setting of the moissanite or other gems.
It's a dramatic alternative to the typical high-prong setup of many modern engagement rings. The gypsy setting draws the eye to focus on a ring's elegance as a whole, instead of showcasing one raised moissanite or other gems.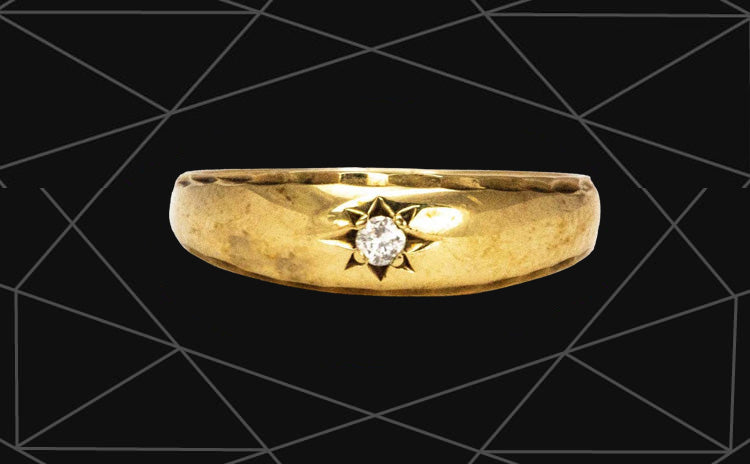 Rings with the gypsy setting are ideal for everyday wear. A flush setting implies less concern over damaged moissanite and also fragile prongs. As well benefit-- grime and dirt can not obtain stuck under gemstones and boring their sparkle!
A lot of the gypsy ring's pros can also be seen as cons. Since the stone is tucked right into the band, gypsy rings do not do a great deal to help make a small rock seem bigger than it in fact is. And also given that the moissanite isn't exposed to light from as many angles, it might not be as sparkle as it might possibly be.
This ring kind sets well with whatever from pants and also sneaks to cocktail clothes.
History of the Gypsy Set Ring
While the gypsy ring has a lot of really modern-day charm, it's actually quite an old design.
Gypsy rings were extremely popular during the late Victorian age, especially in between 1885 and 1900. Historically, a gypsy ring featured a rounded, tapered yellow gold band dotted with three equally-sized round-cut gems in a row.
Originally favored by males because of their durable structure, gypsy rings later on ended up being commonly put on by females because of their ageless sophistication.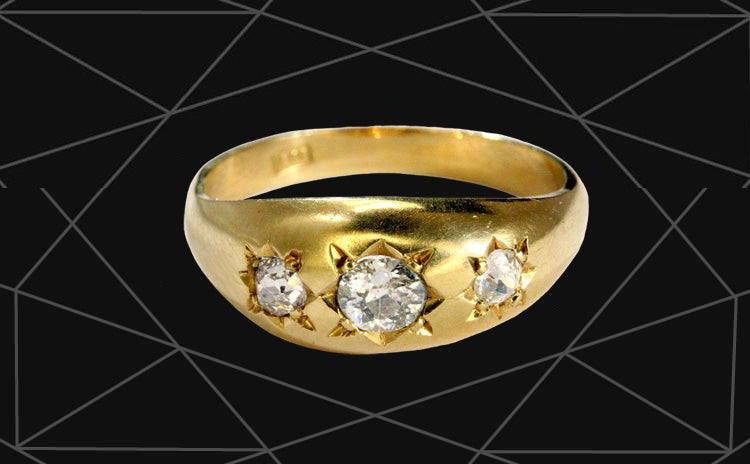 What Is The Difference Between Bezel and Gypsy Setting?
There is a difference between the bezel and gypsy settings. In a gypsy setting, the stone is submerged in the metal and is flush with the surface. In a bezel setting, a protruding metal rim wraps around the stone.
Is A Gypsy Setting Good For An Engagement Ring?
Gypsy rings have a daring style that is the antithesis of a standard engagement ring, yet that does not mean you should not take into consideration one.
In fact, if you are searching for a truly different engagement ring, a Victorian gypsy engagement ring is a great alternative to the traditional round-bright diamond ring.
With their reassuringly significant gold bands, typically kindly sized stones, and also distinct settings, there is definitely no danger you will ever tire of staring at your own.
Pros and Cons of the Gypsy Setting
Gypsy life is not for everyone. Like any other style, there are pros as well as cons that you should weigh before purchasing.
Getting an engagement ring or wedding event band is a purchase lifetime acquisition, so it's no little decision.
Here are a few advantages and disadvantages for the Gypsy set ring:
Pros
◾Durable: Gemstones are durable and cannot be chipped or denged easily
◾Versatile: Can double as an engagement and wedding ring in one. Also, can be worn up or down for any occasion.
◾Unique: This is a great option for unusual types.
◾Fewer cleansings required: Grease, dirt, and lotions are less likely to be trapped beneath gemstones.
Cons
◾No gemstone focus: Because gemstones are set flush with the ring, the main focus is on the ring as a whole and not a single stone.
◾Less sparkle: Because light cannot shine beneath stones, so there's less sparkle.
◾Less feminine: Although this may not be a 'con' for all, the style is more masculine and may not suit all hand types.
Related Reading: Types Of Ring Prongs
Comment