Ultimate Guide to Moissanite Stud Earrings
Apr 23,2023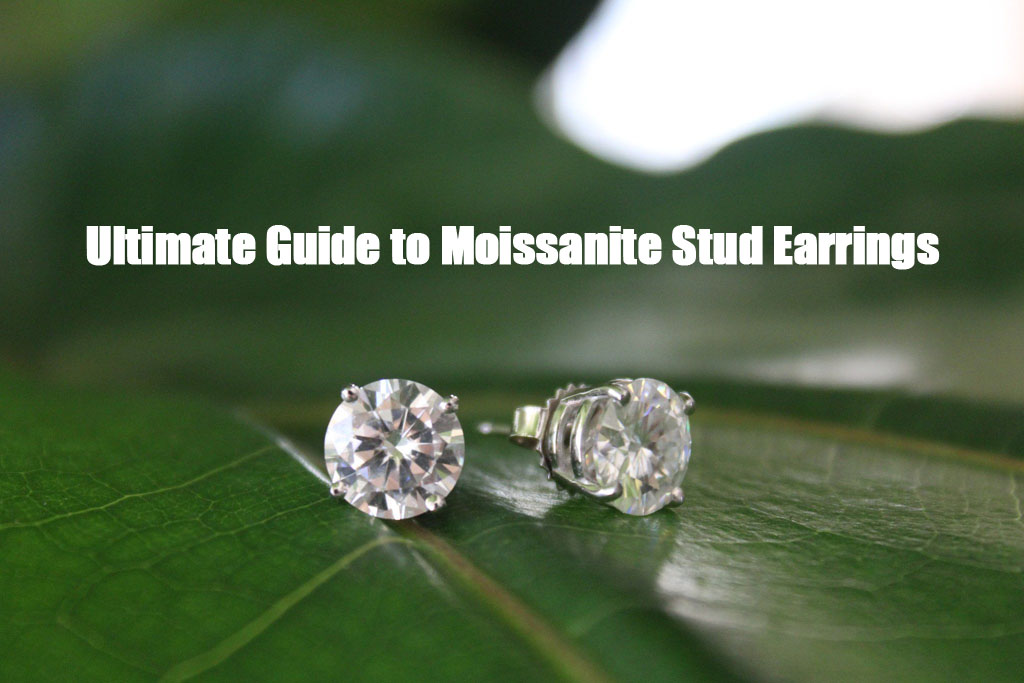 Moissanite Stud earrings are the perfect way to add a bit of class to your look. They're versatile, timeless and breathtakingly gorgeous. What exactly are moissanite earrings and what makes them different from other kinds of studs? In this comprehensive guide, we'll go over all you must be aware of about stud earrings made of moissanite in everything from their history and design to their composition and maintenance.
What are Moissanite Stud Earrings?
Moissanite earrings with studs are a kind of stud earring with a central stone that is made of moissanite. Moissanite is an extremely rare mineral initially discovered in the hands of French researcher Henri Moissan. The mineral was discovered in a crater of a meteor in Arizona which was then misinterpreted as diamonds. It wasn't until 1904 that Moissan realized the mineral's true nature.
Moissanite is renowned for its brilliance, fire, and long-lasting properties, making it a superior replacement for diamonds. In reality, moissanite is more fire and brilliance than diamonds and is also cheaper. Moissanite Stud earrings are popular for wedding rings, engagement ring bands, and various other pieces of jewelry.
SHOP OUR MOISSANITE STUD EARRINGS
History of Moissanite
As we've mentioned before the discovery of moissanite began through Henri Moissan in 1893. Moissan was studying samples of rock from an asteroid crater in Arizona when he came across the mineral. At first, Moissan believed the mineral was diamonds, but then he realized it was a new mineral.
Moissanite is named for Henri Moissan in honor of his discovery. In the following years, moissanite was discovered in a variety of other places such as Russia as well as China. However, moissanite is thought to be a rare mineral and is found only in tiny amounts.
Composition of Moissanite
Moissanite is a substance made from carbon and silicon which is its chemical formula SiC. It is a natural mineral, but the majority of the moissanite used in jewelry is manufactured in a lab. The laboratory-created moissanite is created through a process known as chemical vapor deposition. It involves the heating of silicon carbide to extreme temperatures in a vacuum.
Moissanite has a similar chemical composition as diamonds, however, it has a unique crystal structure. The structure of the crystals of moissanite has distinctive optical properties, which include greater brilliance and fire than diamonds.
Characteristics of Moissanite Stud Earrings
Moissanite Stud earrings are famous for their fire and brilliance that are due to the unique optical properties of the mineral. Moissanite is also a durable gemstone making it a great option for daily wear.
Moissanite Stud earrings are available in a variety of sizes, ranging from tiny and delicate to big and striking. They also come in various shapes, such as round, cushion, and oval.
Benefits of Moissanite Stud Earrings
Moissanite Stud earrings offer a variety of advantages over other varieties of stud earrings:
One of the major advantages of stud earrings made of moissanite is their cost. Moissanite is cheaper than diamonds, which makes it a great choice for those who desire the look and feel of diamonds but without the cost.
Another advantage of moissanite stud earrings is their long-lasting nature. Moissanite is among the hardest minerals found that exist, making it immune to scratches and abrasions. This makes moissanite stud earrings a fantastic option for wear every day.
In addition, it is a green and ethical alternative to diamonds. Moissanite is not a mined gemstone, which means there isn't any environmental impact due to mining. Moissanite is also considered to be a non-conflict stone, meaning there is no link to unethical methods or violent acts.
Design Options for Moissanite Stud Earrings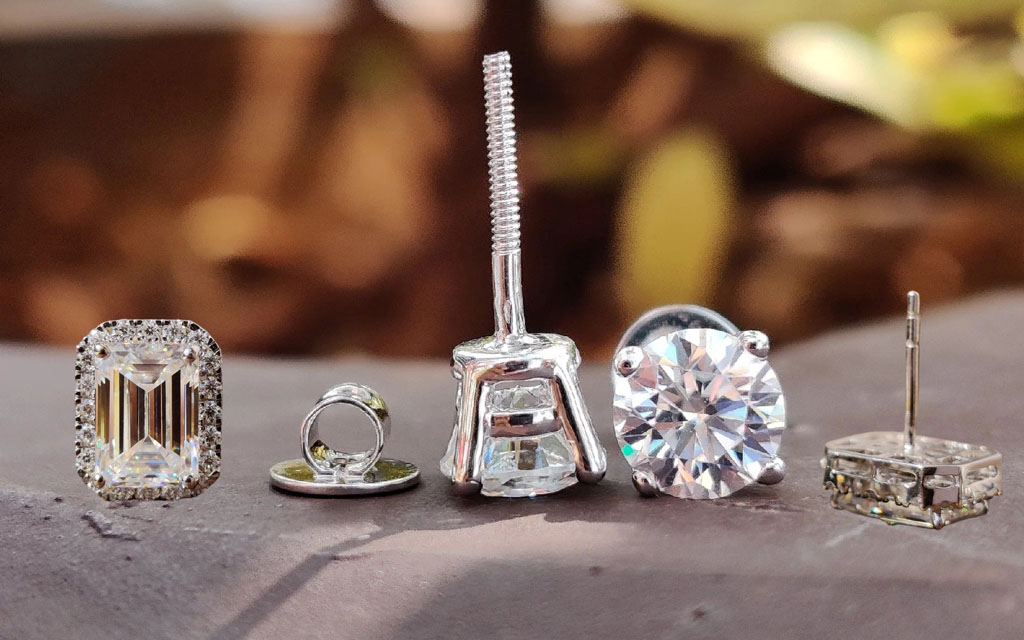 Moissanite Stud earrings are available in a variety of styles and designs which makes them appropriate for every occasion. Some popular design options for moissanite stud earrings include:
Solitaire Studs: These earrings feature a single moissanite that is set in a metal post. Solitaire studs are timeless and timeless, which makes them ideal for every look or occasion.
Halo Studs: Halo Studs feature a center moissanite stone surrounded by smaller accent stones. The halo design adds sparkle and depth to the earring.
Cluster Studs: Cluster Studs are numerous small stones of moissanite set within a group. The cluster design gives a striking and dramatic appearance which is ideal for special occasions.
Colored Moissanite Studs: Moissanite comes in various colors, including yellow pink, and green. Colored moissanite studs offer an original and exciting choice for those looking for something unique.
How to Choose the Perfect Pair of Moissanite Stud Earrings
When selecting the ideal pair of studs made of moissanite There are many things to think about. The first is the dimensions that the earrings. Moissanite stud earrings are available in various sizes, and it's crucial to choose one which is appropriate to your earlobes and facial.
Another aspect to consider is the form of the moissanite stone. Shapes will vary in levels of brilliance as well as fire, which is why it's crucial to select a form that you love.
You must also think about the metal that is used in the settings of your earrings. The common metals used in moissanite earrings are silver, white gold, platinum, and rose gold. All metals have their own distinct characteristic, therefore it is important to choose one that is compatible with your complexion and personal style.
How to Care for Moissanite Stud Earrings
Caring for moissanite stud earrings is quite simple. To ensure that your earrings look good, be following these steps:
Clean your earrings regularly using a soft cloth, mild water, and soap.
Beware of exposing them to chemicals that can harm your earrings such as bleach and chlorine.
Keep the earrings inside a soft pouch or jewelry case to protect them from damage and scratches.
Frequently Asked Questions
How does moissanite compare to diamonds?
Moissanite is a great alternative to diamonds, as it has similar characteristics, including its hardness and sparkle. Additionally, moissanite is significantly less expensive than diamonds, making it a more affordable option for those on a budget.
Can you tell the difference between moissanite and diamonds?
It can be challenging to tell the difference between moissanite and diamonds without a trained eye. However, moissanite has more sparkle than a diamond, and it can have a slightly yellow or green tint depending on the cut and size of the stone.
Is moissanite a sustainable and eco-friendly option?
Yes, moissanite is a sustainable and eco-friendly option because it is lab-grown and not mined. This reduces the negative impact on the environment and human rights.
Can moissanite stud earrings be worn every day?
Yes, moissanite stud earrings are durable enough to be worn every day. However, it's important to care for them properly to keep them looking their best.
Conclusion
Moissanite Stud earrings are an ideal choice for those seeking an attractive and cost-effective alternative to diamond studs. With a variety of designs and styles, these studs can be worn for any occasion, and their enduring quality makes them ideal as everyday earrings. When selecting a pair of moissanite stud earrings, take into consideration the factors like dimensions shape, shape, and metal as well as take care of them to ensure they look the best.
Comment