Round Cut vs. Cushion Cut Moissanite: Which is Right for You?
Feb 17,2023
Are you searching for a moissanite engagement ring, but aren't sure which one to select? Round-cut and cushion-cut moissanite are gorgeous and classic choices in your jewelry collection. We'll explore the distinctions between the round cut and the cushion cut. We'll assist you in making an informed choice. You can then choose the perfect ring to gift your beloved one.
Table of contents

Round Cut vs. Cushion Cut Moissanite: Style

Round Cut vs. Cushion Cut Moissanite: Sparkle

Round Cut vs. Cushion Cut Moissanite: Size

Round Cut vs. Cushion Cut Moissanite: Price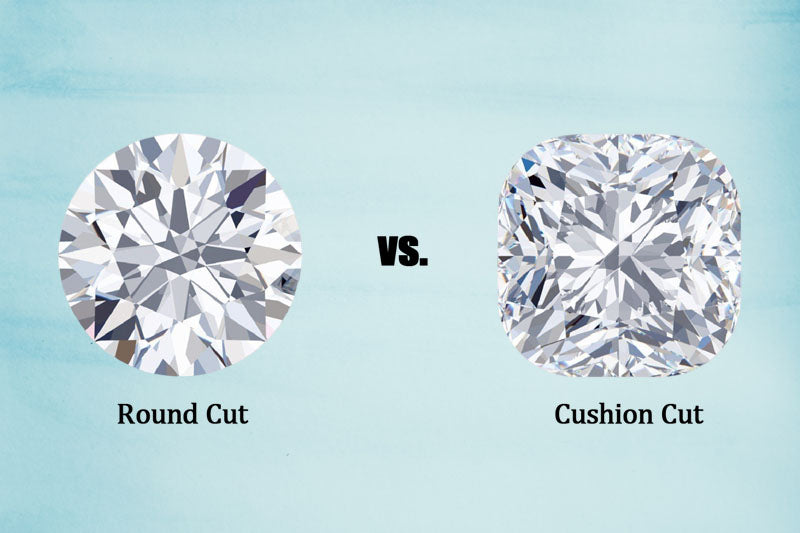 Round Cut vs. Cushion Cut Moissanite: Style
Let's first take a look at the different styles between round-cut and cushion-cut moissanites.
In terms of style, round moissanites are considered a classic and traditional moissanite shape. This is an excellent choice for people with traditional fashion.
On the other hand, cushion-cut moissanites are renowned for their retro style, however, because of their softly curving shape, they're often regarded as beautiful and romantic. Cushion-cut moissanites are cut as a square, with cut corners (or a cushion) as do older mine-cut diamonds but they are outfitted with modern, cutting that is brilliant.
When considering the style of circular and cushion-cut moissanites keep in mind that there is no "best" style. The decision to go with a round or cushion cut moissanite is based on the individual's preference and also the design of the moissanite ring.
If you are looking for a classic moissanite, choose a round moissanite. If you like the romantic, vintage appearance of the cushion cut shape opt for it.
Round Cut vs. Cushion Cut Moissanite: Sparkle
Round-cut and Cushion-cut moissanites are stunning and beautiful moissanite shapes. But, the method of cutting them can make them shine a little differently.
The sparkle that emanates from moissanite is known as its scintillation. The sparkle in moissanites is comprised of two types of light sources: White lighting (called brilliance) and rainbow light (called fire).
Round-cut moissanites possess the highest brilliance of all moissanite shapes and are therefore more brilliant than cushion-cut moissanites.
And, on the other hand, cushion-cut moissanites possess the highest fire among all moissanite shapes, meaning they are more fire-producing than round-cut moissanites. Personal preference is the ultimate factor when deciding between the high brilliance of a round-cut moissanite or the high fire of a cushion-cut moissanite for your moissanite ring.
Round Cut vs. Cushion Cut Moissanite: Size
Certain moissanites have a larger table surface because of their shape. This is the reason some moissanites appear different in size even though they have the same weight in carats. Moissanites with fancy shapes appear bigger than round moissanites however, this isn't always apparent when using cushion-cut moissanites.
But, when it comes to the ratio of length-to-width of moissanites, the cushion-cut moissanites offer lots of options. In contrast to round moissanites, which have a perfectly round shape, cushion-cut moissanites have different ratios of length-to-width.
A perfect square cushion-cut moissanite will have a ratio of 1.00. It looks like a round moissanite. Especially under 1 carat in size. Anything that is larger than 1.10 appears to be rectangular. The longer cushions create a distinctive style. It is possible to create your own unique look when you experiment with various ratios until you find the ideal size.
Round Cut vs. Cushion Cut Moissanite: Price
The price difference between round-cut and cushion-cut moissanite will vary based on a variety of aspects like quality, size, and the vendor. In general, round-cut moissanite is likely to be a bit higher priced than cushion-cut because of its popularity and its need for greater cutting as well as polishing in order to attain the ideal cut.
Although cushion-cut moissanites are more cost-effective than round-cut moissanites. However, we do not suggest choosing your moissanite's shape just based on the price.
If you're certain within your heart that you would prefer a round moissanite for your centerpiece it is best to adhere to your gut. But, if you are adamant about a cushion-cut diamond, you should consider the lower cost which is a wonderful bonus.
Conclusion
When choosing between a round-cut or cushion-cut moissanite engagement ring, there's no one clear winner. Both styles have distinct advantages, and it all comes down to the individual's preference. Round-cut moissanites are classic and traditional, while cushion-cut moissanites offer a vintage, romantic feel.
The shape of the moissanite influences the way it shines in a round moissanite, with round moissanites having more sparkle and cushion-cut moissanites possessing more fire. While round-cut moissanite can be more costly, it shouldn't be the primary element when choosing the shape of a moissanite. The final decision depends on the look and size, the sparkle, and the budget that will best suit the individual's tastes and preferences.
Comment