Princess Cut Vs Cushion Cut Moissanite: How To Decide?
May 12,2022
Round moissanite remains a popular choice for couples, but they are increasingly choosing non-round moissanite. Two of the most popular and well-known moissanite cuts on the market are the cushion-cut and princess cut. Both the cushion and princess cut have a geometric appearance but they are quite different.
See the difference between Princess Cut Vs Cushion Cut Moissanite. Both moissanite cuts look stunning, but each has unique characteristics that might suit someone's style and personality better.
Table of contents

Difference Between Princess Cut Moissanite and Cushion Cut Moissanite
What is Princess Cut?
The princess cut is undoubtedly the most popular cut after the round brilliant. The profile of princess cut moissanite is square and symmetrical.
In 1961, the first princess cut diamonds appeared. These were also known as 'square modified brilliant' or 'profile cuts' due to their similarity to round brilliants. The shape of this diamond is shaped like a pyramid upside-down. It has four corners that are pointed and beveled.
What is Cushion Cut?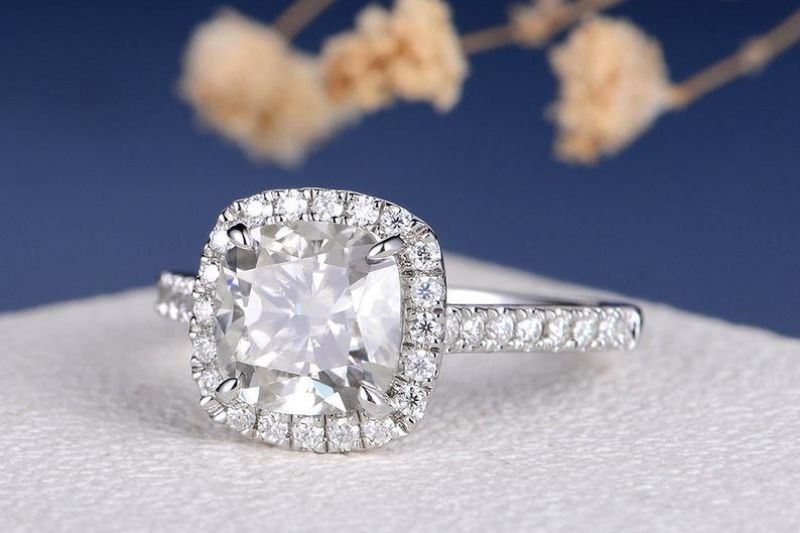 The cushion cut is shaped like a pillow and features sloping edges, large facets, and square shapes. The Cushion Cut was first applied to diamonds. In the 1700s, cushion diamonds made their first appearance.
These were often called "old mine cuts" because they were the same way that old mined diamonds were cut. They are the oldest cut of diamonds. They were actually the standard cut of diamonds until the 19th century when modified and newer diamond cuts began to appear.
Difference Between Princess Cut Moissanite and Cushion Cut Moissanite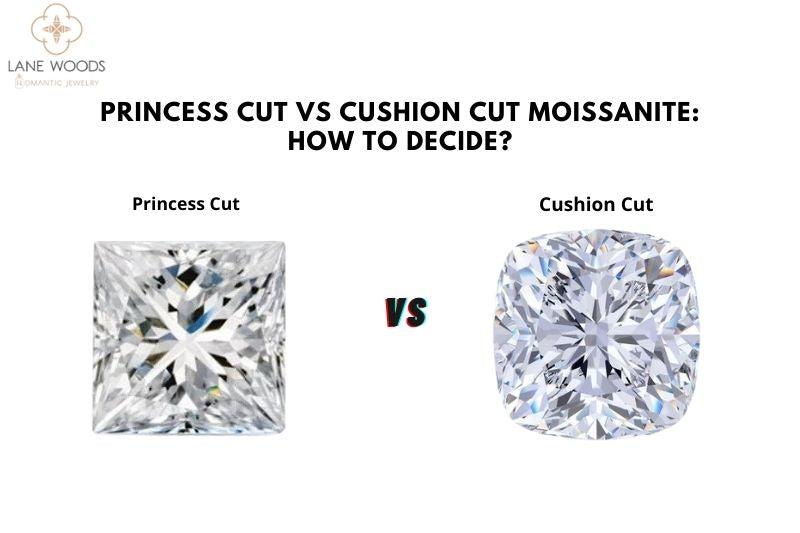 The princess cut moissanite has a square geometric shape and sharp corners. It is strong, modern, and angular. It is pyramid-shaped moissanite with four beveled edges. The princess cut has many facets to achieve its iconic brilliance. The number of facets moissanite has will depend on its size, but the princess-cut can have 57 or 76.
Due to its sharp corners, the princess-cut moissanite is susceptible to vulnerability. If the corners aren't protected, the moissanite can be exposed to chipping if it is snagged.
Cushion cut moissanite is also known as old mine moissanite. They are soft squares and rectangles. This cut features rounded edges and bluntly curved corners. The moissanite's unique fire is created by the 58 facets of cushion cuts.
The cushion-cut structure usually displays one of three types of pavilion patterns. There are four to eight kite-shaped facets at the bottom of the moissanite between the girdle or the culet.
You'll be able to tell the difference between cushion and princess cuts when comparing them. Some people like to compare the cushion cut's softer sparkle to sparkling water and crushed ice. The princess cut has a brighter sparkle.
Because of their higher crown angles, facet patterning, and crown angles, cushion-cut moissanite have better fire dispersion properties than princess cut moissanite.
It is important to remember that every moissanite you see will have its own brilliance, fire, and cut quality. A well-cut cushion can have more fire than a poor-cut princess, and vice versa.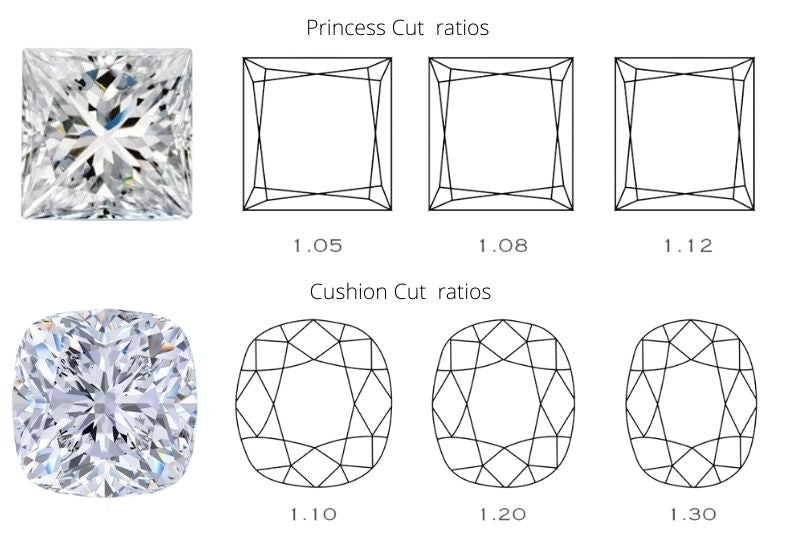 The ideal ratio for a princess cut moissanite is between 1.00-1.05. A ratio of 1.06-1.12 is also acceptable if you prefer a slightly rectangular shape.
There are a variety of shapes for cushion-cut moissanite. They can look like a square or a rectangular(elongated cushion).
The ideal ratio for a square cushion would be between 1.03-1.03. Beautiful proportions can still be achieved with a ratio of 1.03-1.05. A ratio of 1.15-1.20 would be ideal for a cushion with a rectangular shape. Also, a ratio of 1.20-1.30 is very good and gives a more elegant, elongated effect.
When purchasing cushion-cut moissanite, it is important to consider the ratio. If your ratio is poor, your cushion-cut moissanite will look more like a round or radiant cut.
A cushion cut moissanite will look smaller per carat due to its smaller table and depth than a princess or round cut.
The princess cut is slightly larger in size, because it has a greater face-up area, due to its diagonal measurements. A one-carat princess-cut moissanite with a high cut will make a big impact.
Which Is Better: Princess Cut Or Cushion Cut
Both moissanite shapes are unique and have different appearances.
A princess-cut moissanite ring has a modern look and sparkle. It is quite different from a cushion-cut moissanite ring. On the other hand, the pointed edges make it less suitable for people with an active lifestyle and require more care when wearing.
When left alone, cushion cuts can look like crushed ice. They have a subtle glow that is different from the sparkling sparkle of a princess cut. It can create a stunning effect that many couples love if it is surrounded by smaller moissanite.
Which is better, a princess cut or a cushion cut engagement ring?

It all depends on your personal style and preferences. For those who are looking for something unique and affordable, both the cushion cut and princess cut are great options.
Comment