Pear-Shaped Moissanite Guide: Unique & Stunning
Apr 29,2022
The pear-shaped moissanite is remarkable for its brilliance. This elegant cut allows the wearer to express their individuality without sacrificing the sparkle.
It is beautiful and rare. We will discuss what you need to know about this stunning moissanite shape.
Table of contents

What is a Pear Shaped Moissanite?

Pear Cuts: Length to Width Ratio
What is a Pear Shaped Moissanite?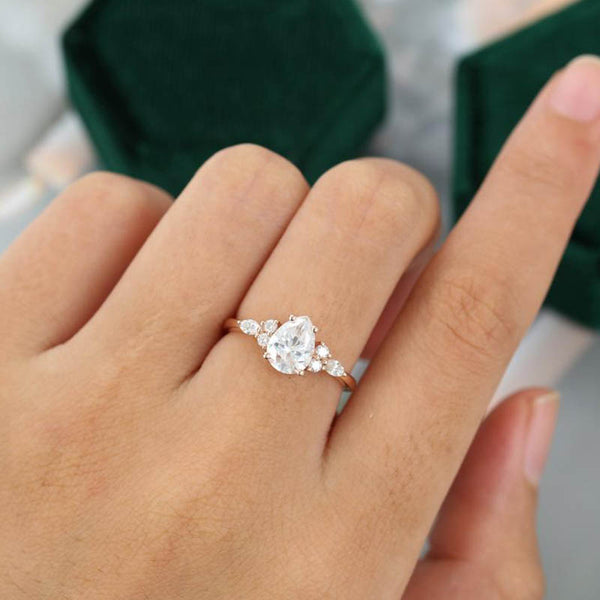 Pear-shaped moissanite (also known as pear cut moissanite or teardrop moissanite) is a brilliant-cut moissanite cut in the shape of a pear or teardrop.
Pear-shaped or pear-cut moissanite has an elongated form, similar to an oval cut or Marquise. One end of a pear-cut stone is rounded, like an oval cut. The other end is pointy (like a Marquise moissanite).
These unique moissanite stones are perfect for making engagement rings and other pieces of jewelry. Rings with pear-shaped moissanite can make the wearer's fingers appear longer and slimmer.
The pear cut was first applied to diamonds rather than moissanite. And The origins of the pear-cut diamond can be traced back to the late 1400s when Flemish diamond Polisher Lodewyk von Berquem introduced it.
The typical pear brilliant-cut has 56 facets. This can vary depending upon the facet patterning. Because of their longer shapes, pear cuts look more lager than round moissanite.
Pear Cuts: Length to Width Ratio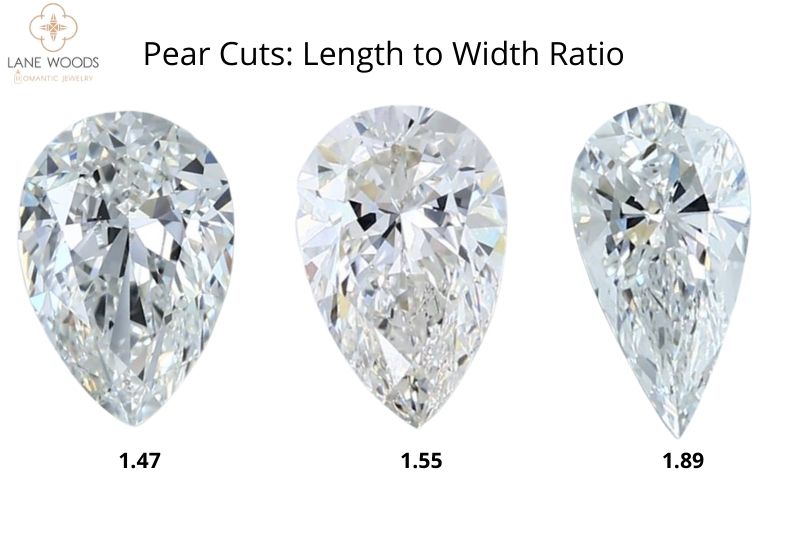 A pear-cut moissanite's length-to-width ratio can have an impact on the overall shape of the moissanite. People prefer pear shapes that have a length-to-width ratio of 1.40 to 1.70. Personal preference will still dictate the choice.
Your moissanite will look balanced as long as you follow the tips below.
The edge should be parallel with the top of the rounded ends.
Both the upper and lower curves of the moissanite should form symmetrical curves.
The semi-circle shape should be reflected in the rounded apex.
The setting of the moissanite may also affect your preference in shape: A pear-shaped diamond is best for dangle earrings. However, a larger diamond might be better for a solitaire ring.
When you're evaluating the length-to-width ratio of diamonds, your subjective observation will prevail. There are no wrong or right answers to the question of liking a thinner-looking stone or one that seems stubbier. Ultimately, the shape of the pear must appeal to your heart.
Pear Cuts: Cut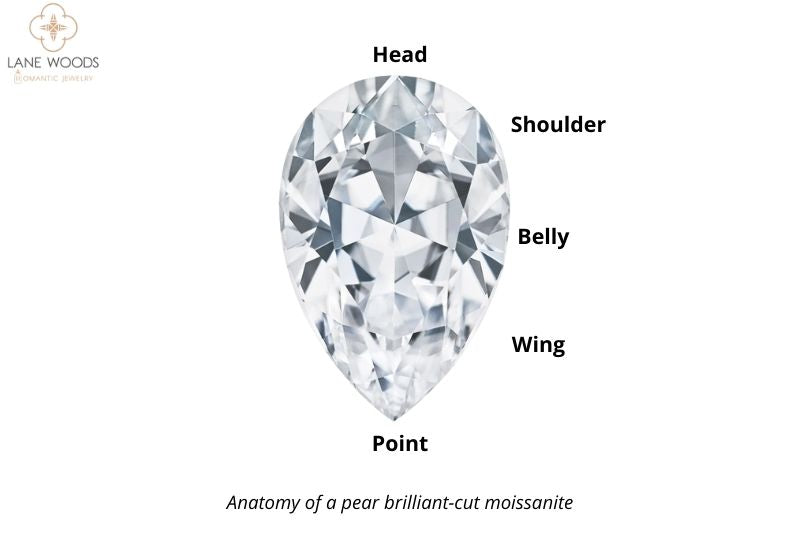 Because of its unique shape, the pear-cut Moissanite has a distinct vocabulary for all elements of its shape. You can see the head starting at the rounded end. Moving down, you will see the shoulder, the belly in middle, the wing below, and then the point at bottom. To test for symmetry, draw a straight line across the middle of your stone. All these features should be symmetrical in a well-cut stone.
For these features are required on a pear-cut diamond. The shoulders and wings should be gently rounded. One side rising or dropping should same from the other side. As the wings narrow towards the point, they should form beautiful arches. Too flat, and the stone will look too narrow. Too rounded, and it will appear too short.
Pear Cuts:
 Carat
The final cut proportions of pear-cut moissanite and the resulting carat weights can vary greatly. Pear cut moissanite is cut to an ideal length-width ratio and proportions for the quality of the stone. So Each pear cut will not necessarily show linear changes in carat size or dimensions.
For example, you might find that a 0.97 ct moissanite looks slightly larger than a 1 ct pear cut moissanite.
Pear Cuts: 
Bow-tie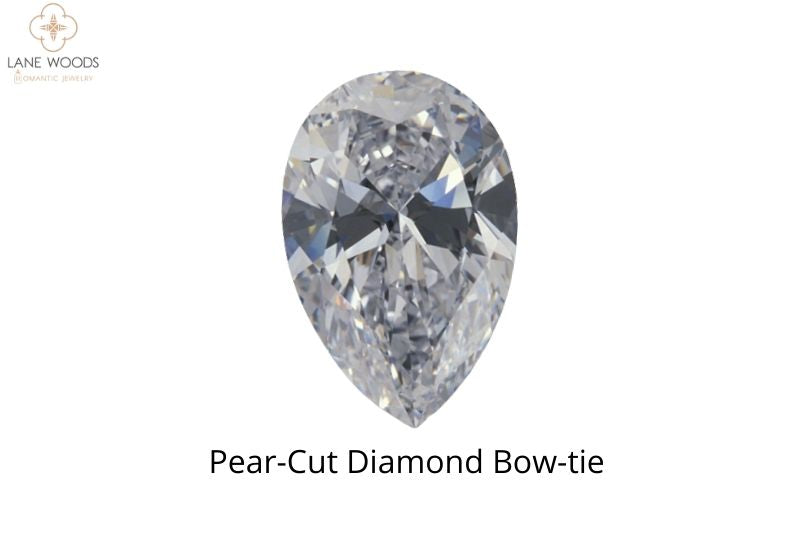 As with some fancy cut elongated moissanite, some pear cut may exhibit a bow-tie effect. This can negatively affect their appearance. Some bow ties can be less obvious, however, some are more distracting and dark looking.

The cut of the moissanite is responsible for the intensity of its bow tie. Because moissanite sparkles are brighter than diamonds, the bow-tie effect won't be as frequent as a diamond. I've noticed the crushed ice cut pear moissanite tends to have a bow tie. But the bow-tie effect of brilliant-cut pear-shaped moissanite is rarely seen!
Pros and Cons of Pear Shaped Moissanite
There are some pros and cons to pear or teardrop-cut moissanite. You should take these factors into consideration when shopping for a ring. This will help you and your partner to make an informed decision.
Pros
The shape and size of the pear cut will have an elongating affect on your finger.
The brilliant faceting style makes it a sparkling diamond that shines brightly when cut properly.
The unique shape of this product sets it apart from the rest.

Cons
Potential for damage
High quality pear-cut moissanite can be quite rare.

Are you ready to find the perfect pear-cut moissanite for your love? Browse Lane Wood Jewelry various shining pear shaped moissanite, to find the perfect match.
Comment