Moissanite Two Cutting Styles: Brilliant Vs Crushed Ice
Feb 26,2022
Moissanite is cut in two main ways, brilliant and crushed ice.The quality of the facet cut is a vital variable to think about when purchasing moissanite jewelry. Gems are so sparkly due to the fact that they are cut in a manner that creates the light which goes into at the top of the stone to jump off aspects within the stone and after that show back out.
Facet cuts are the level surface area of a gem that affects its refractive index. The high quality of the cut will additionally affect exactly how the light interacts with the stone. So Moissanite's facet cut is an identifying aspect of its price besides its color and also clarity.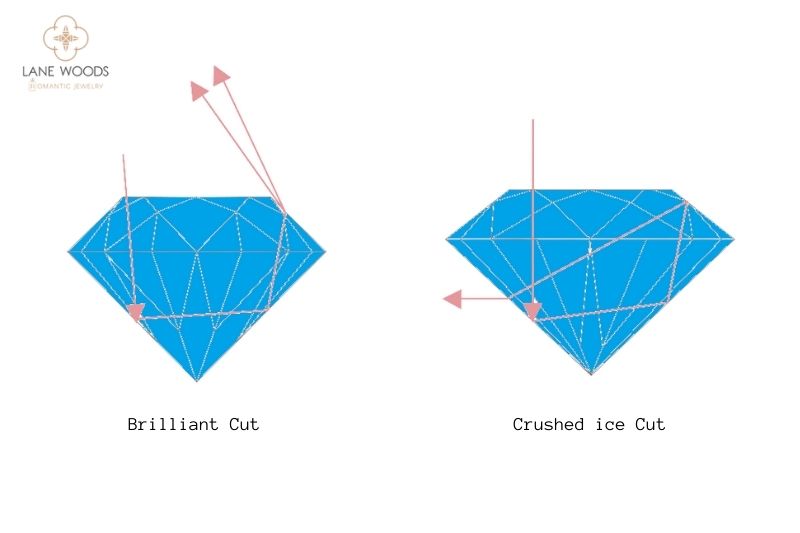 Brilliant Cut
Brilliant cut stones reflect one of the most amount of light as well as will certainly appear to have well-defined facets. This is a lot more conventional cut stone. They are cut with consistent elements on the pavilion (bottom angle of the stone), which creates light to travel in one of the most effective means feasible.
Light goes into the crown of the stone, mirrors a number of times (off the Pavillion facets), as well as comes back out via the crown. This triggers the highest level of fire and also brilliance feasible for the stone. A round brilliant cut is one of the most prominent and produces the most fire and also brilliance out of all the other sorts of aspect cuts.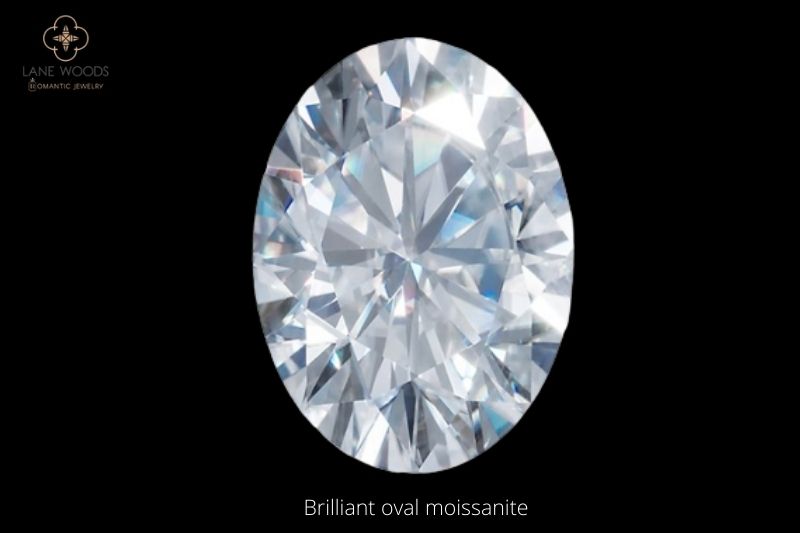 Crushed ice Cut
Crushed ice cut has short, broken-up aspects that look really comparable to damaged glass or smashed ice, hence the name. There are even more elements in the Pavillion of smashed ice stone, and also jumping the light within the rock in an irregular means. Some light will jump off two surface areas of the structure before leaving the crown, However, some light will reflect several times inside the rock, sometimes it will exit instead of bouncing back up.
So, in short- contrasted to brilliant-cut moissanite, crushed ice moissanite's smaller-sized, shorter light reflections. The sparkle, fire as well as glimmer are also lower! Price-wise, crushed ice is more economical than Brilliant cut A brilliant cut is just one of the most costly due to the fact that this cut needs one of the most amounts of time to make and it loses one of the most quantity of weight out of the harsh material.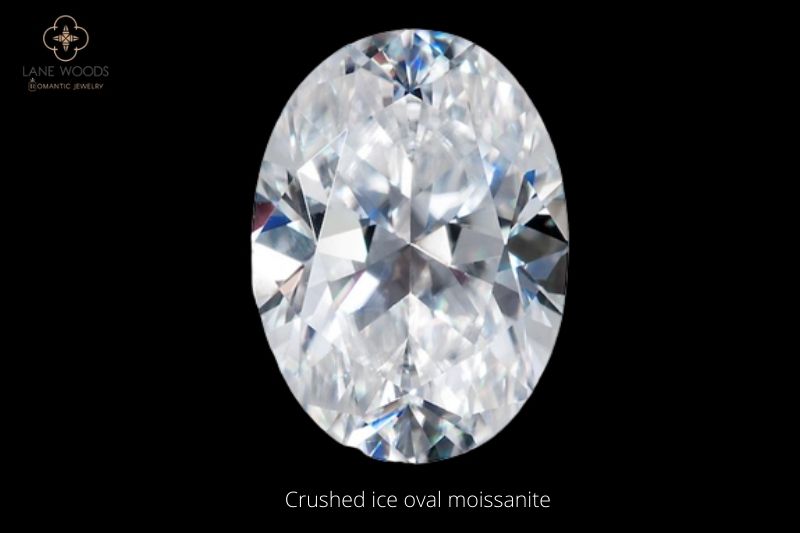 Learn more about complete guide to moissanite rings
What is a Bow Tie?
A bow tie is most usual in pears and oval diamonds. Which is a darker band through the center width of the stone where light is lost via the pavilion as well as looks like the look of a guy's bow tie. Bow ties can be hard to select. They look different in various lights, in various rooms, at different angles, placed and also unmounted. Sometimes you see them, then you don't.
Ovals have a lengthy side and also a brief side. A diamond bow tie takes place when width facets are much shorter as well as are steeper than its length aspects. These distinctions in-depth and also angles trigger light to refract differently in an oval's facility vs its tips. The tiny angle on the bottom causes light to leak through the stone. This is specifically why the bowtie result occurs.
As a result of the higher refractive index of moissanite, it's simpler to stay clear of the bowtie. The high index of refraction of moissanite also offers the oval brilliant-cut clear, crisp aspects and lots of fire and luster.
Because the reduced refractive index of oblong diamonds makes the light take a less-than-ideal course as it jumps about extra. The crushed-ice appearance is somewhat standard for an oval diamond. The faceting pattern of crushed ice moissanite suggests this cut has more of a bowtie result-- providing it an extra diamond-like look.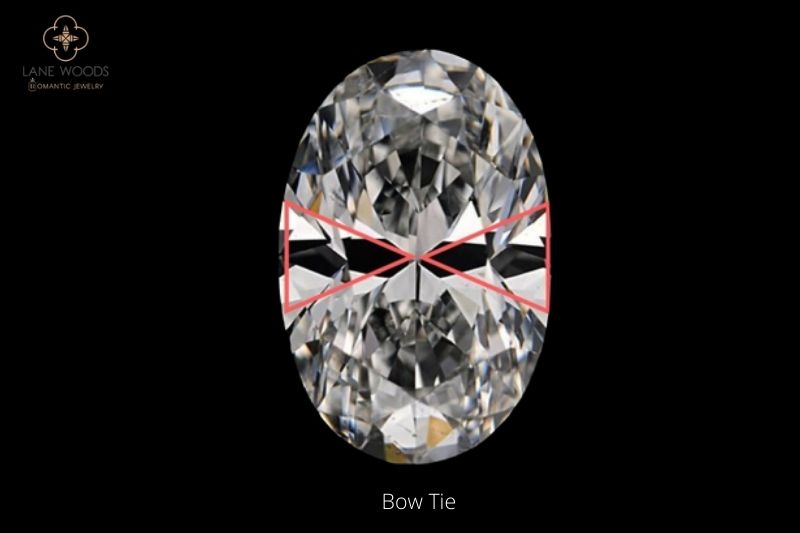 Which Cut Should You Choose?
Both brilliant, as well as crushed ice moissanite, are beautiful cuts. Subjectively, the brilliant does everything better. Due to the reliable use of light, the brilliant-cut exacts one of the most amounts of fire as well as sparkle possible from moissanite. It shows consistent, bigger aspects. As a beautiful, extremely sparkling gemstone, this unmatched sparkle of moissanite is why a lot of people fall for it!
However, moissanite is unavoidably compared to diamonds. Some may be more worried regarding which cut looks even more like a diamond? This is where the smashed ice cut comes into play, as its faceting pattern displays less fire and also sparkle and even more smaller sized, spread shimmers and also can display a bowtie impact-- That claimed, It is most similar in appearance to diamond.
Which do you think you prefer? Do you enjoy moissanite for just how gorgeous it looks or for how much it resembles a diamond? At the end of the day, it's entirely approximately you!
Other Facet cuts 
Step cut
Step cut has a sleek and also classy appearance as well as tends to be longer and also a lot more rectangle-shaped fit. Emerald cut and Asscher cut moissanite are two of one of the most popular action cuts.
This kind of cut has fewer facets and also will certainly not offer you as much fire as a brilliant-cut or crushed ice cut would, it showcase the gemstone's clarity. If step-cut moissanite piques your interest, make sure you get a high-clarity stone, step-cut is unlikely to hide any inclusions.
Hearts & Arrows cut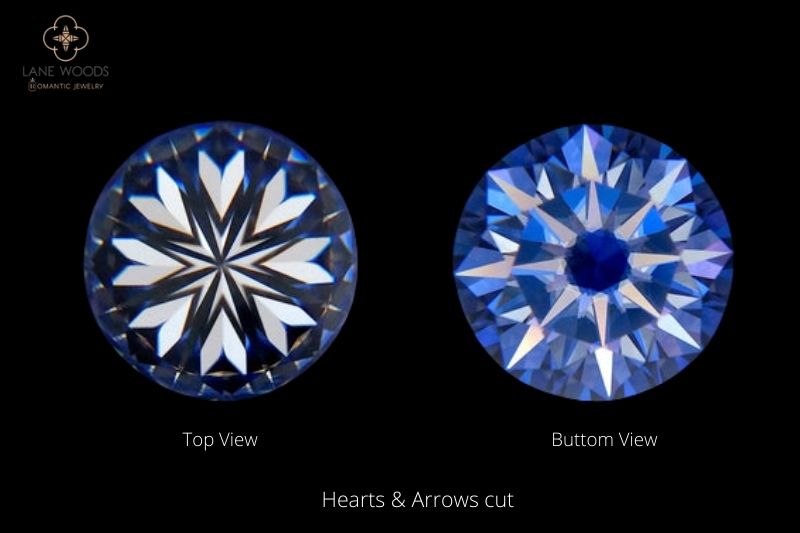 The Hearts & Arrows cut was found accidentally in the 1980s in Japan where Kinsaku Yamashita discovered the hearts & arrows pattern in a gemstone.
This cut is thought of as an "extremely suitable cut" and creates 57-58 facets with the greatest precision by precisely straightening the aspects in 3 dimensions, which is accomplished by taking full advantage of the light processing potential of the facet setup to achieve optical proportion.
Under certain illumination problems, 8 arrows can be seen when looking from the crown (top) of the treasure. When watched from the pavilion (base) of the gemstone, 8 completely proportional hearts show up. Of course, this very unique pattern is just visible under a unique jeweler's magnifying device as well as not to your nude eye.
Likewise, this cut is one of the most costly sorts of facet cut of all-- substantially more expensive than a brilliant cut.
Vintage cut
A Vintage cut otherwise referred to as the "Old European" cut has a special faceting framework that soaks up the light differently as well as gives out a warmer light dispersion. It launches bigger light as well as dark patterns comparable to a checkerboard as compared to bits of intense, intense white light that a brilliant-cut Moissanite would certainly. Some favor a less flashy item of precious jewelry as well as prefer this type of cut over a brilliant cut.
Comment