Marquise Cut Moissanite: In-Depth Guide For You
Jul 26,2022
A marquise moissanite is a special direction to go when choosing a shape for your engagement ring. Marquise cut moissanite is one-of-a-kind, classy as well as relatively uncommon. If you intend to locate distinct shape gems that are high in quality as well as the price for their value, this marquise cut moissanite guide is a must-read.
Table of contents

What to Look for in a Marquise Moissanite
Marquise Cut Overview
The marquise cut moissanite is a modified brilliant-cut that features a lengthened and also sharp end as well as a football/curved form. In the 18th century, King Louis XV of France asked for a diamond be cut to appear like the lips of his mistress, the Marchioness Madame de Pompadour, Jean Antoinette Poisson. While the narrow design has actually been improved with time, it preserves resemblances to the original.
This remarkable as well as unique look makes a marquise moissanite a distinct choice for those that desire something different. Its lengthy and also slim form creates an illusion of greater size than other forms of the very same carat weight.
What to Look for in a Marquise Moissanite
A number of aspects assist determine the appearance of a diamond cut in a marquise form. Consider these as you select your perfect marquise.
Length-to-Width Ratio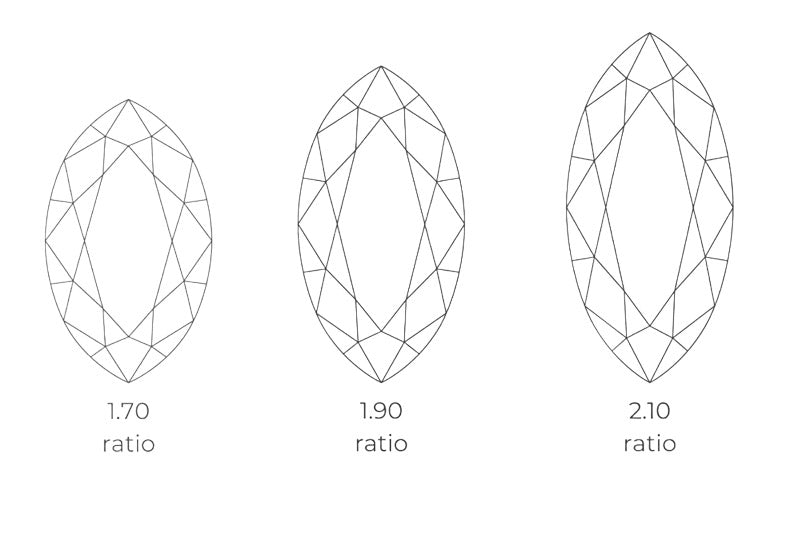 The outer dimensions of a marquise cut will certainly influence eye appeal considerably. However to a large extent this refers personal preference. Some like a very elongated as well as slim form, while others like the robustness of a somewhat wider form. Considering a choice of various designs will help you identify your choice.
The length to width ratio shares exactly how relatively long or wide a moissanite shows up. It is calculated by dividing the length of the moissanite by its width. For instance, if the length of a marquise cut moissanite is 12.30 mm and the width is 5.80 mm, its length to width proportion is 2.1.
The popular length-to-width ratio for Marquise moissanite range from 1.70-2.15. The greater the proportion, the thinner the moissanite looks.
Girdle Thickness
The girdle works as the diamond's setting edge. Girdle density is examined by analyzing all areas of this narrow section that joins with the top as well as base of the moissanite. moissanite with a very thin girdle is really susceptible to cracking during the setting process as well as everyday wear. And overly thick girdles can contribute to much heavier moissanite than its face-up look warrants.
The most susceptible locations of marquise moissanite are found at its 2 pointed ends. If the girdle location at the tips is not thick and adequate to supply enough mechanical strength. A small knock can create substantial damage as well as makes this moissanite a high-risk purchase. So you can pick greater girdle thickness.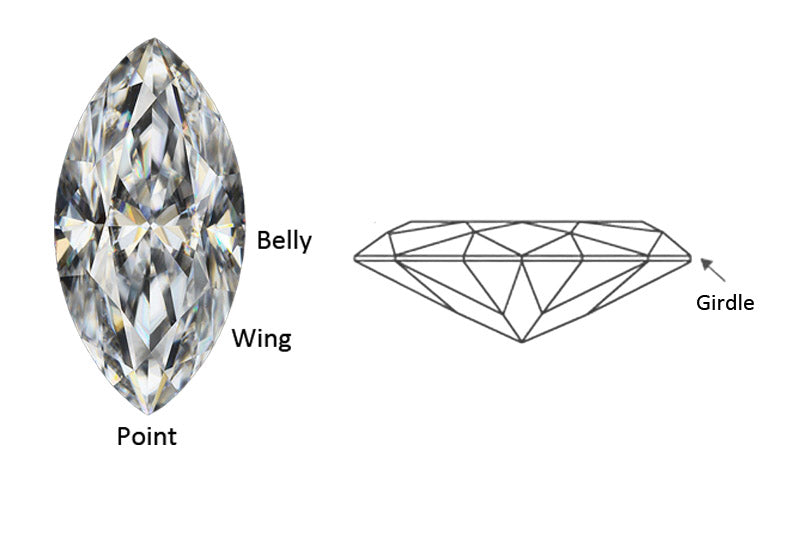 V-Prongs
Even though moissanites are one of the hardest substance on Earth, they are brittle and also can be cracked when extreme pressure is applied. In a marquise form, the 2 pointed tips are especially prone to harm as well as unique care is needed to secure them.
When picking a setting for a marquise moissanite, you should choose one that has two V-shaped prongs correctly positioned to safeguard the tips.
From a practical point of view, the majority of people don't know that the two sharp ends of a marquise ring can easily catch onto things. If your recipient is a fairly negligent individual or regularly performs a hefty job, a marquise could not be the very best form for her.
Symmetry
Symmetry is extremely essential in marquise cuts. Both endpoints need to align with each other, and also the right, as well as left sides, should form a close to mirror image. Even a slight imbalance in the points can result in an off-kilter look in the final setting. Therefore, superb or great symmetry is strongly advised.
Bow Tie Effect
This phenomenon usually occurs on diamonds. The bow tie result is a common feature of marquise cut diamonds. Comparison along the horizontal centerline of the cut can generate some darkness that looks like the shape of a guy's bow tie. Because moissanite has more fire and sparkle, a bow tie effect is rarely seen in brilliant-cut marquise moissanite. If you want a stone that looks like a diamond, you can choose Crushed Ice cut Moissanite.
Pros And Cons Of Marquise Moissanite
Pros:
Special and also eye-catching shape
Fantastic style faceting creates plentiful brilliance as well as scintillation
Looks large for its carat weight
Streamlined as well as slender on the hand
Less expensive than the round brilliant of the same weight and quality
Cons:
Not compatible with many ring styles
Not as numerous in the marketplace to select from
Cut high quality is harder to evaluate than round cut
Here are some Marquise styles from Lane Woods Jewelry that will certainly captured your eyes. Exceptional workmanship and highly affordable prices.
1.5 Carats Marquise Moissanite Engagement Ring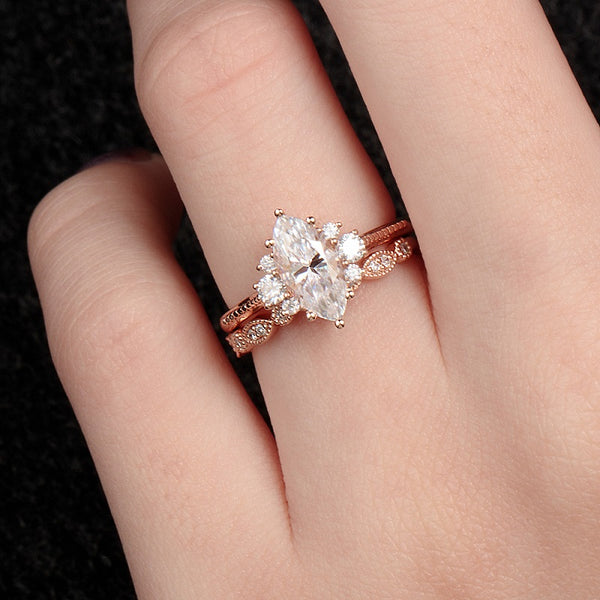 This perfectly handcrafted Moissanite engagement ring is crafted from shimmering sterling silver and includes a marquise cut as well as 2 heart-cut prong-set D-grade Moissanite gems wonderfully embedded in the center of the ring. Unique intermediaries on the sides of the ring display details that include a touch of deluxe. The appearance on the band adds an intriguing component to this design. Noble as well as stylish, but not way too much. This gemstone ring is a classy addition to any fashion jewelry collection.
Marquise Bridal Sets Solitaire Moissanite Rings in 925 Sterling Silver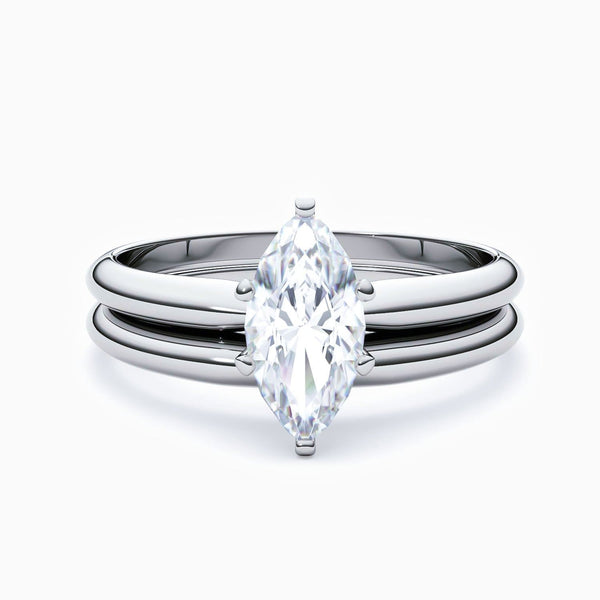 This ring boasts a cherished vintage look, with a six-prong-set marquise cut moissanite beaming at the center. A 925 Sterling Silver band with a sleek knife edge profile provides a classic shape that radiates sophisticated simplicity.
Comment