Lane Woods Jewelry Top 5 Moissanite Engagement Rings
Sep 26,2022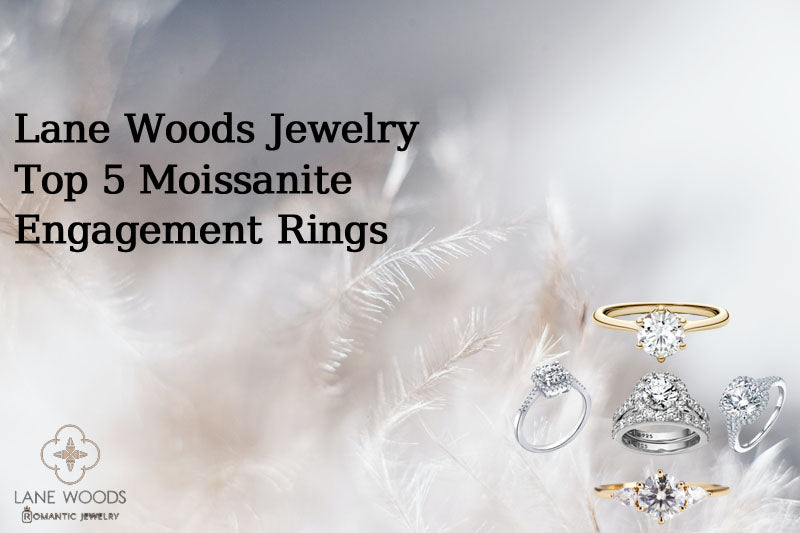 Moissanite is among the stones that we cannot get over. A majority of couples pick moissanite as their primary stone in their wedding rings. Moissanite is almost like a rainbow in its brilliance when light hits it, which makes it pop beautifully in your engagement ring. If you're looking for your diamond to stand out Moissanite is a fantastic choice.
But where do you start when you want to find the finest moissanite ring that is available?
The benefit of buying a moissanite engagement ring online is that you have many options, which could be fantastic.
But, it could also mean that you may become overwhelmed and may not know where to start.
This is why articles like this one can be useful. In this article, we'll evaluate our top 5 moissanite engagement rings.
Table of contents

How About Lane Woods Jewelry Moissanite?
How About Lane Woods Jewelry Moissanite?
Lane Woods is an online jewelry store that sells stunning moissanite jewelry since the year 2018. The jewelry we sell has sterling silver as the base. Silver base metal is then coated with rhodium or 14K to 18K gold. This gives the jewelry its sparkle.
At Lane Woods Precious jewelry, nearly all settings are made of non-mined origin and are derived out of jewelry that was recycled and also precious metals. The eco-friendly recycled metals that you will love because of their style and feel proud to wear as the impact they have on the earth.
Meanwhile, Lane Woods Jewelry uses the lab-created moissanite in jewelry. If you want a ring that is sustainable and ethically produced is important to you, then moissanite is an excellent option. It's created in a laboratory rather than extracted from the ground and doesn't have the same kind of conflicts that you encounter when gemstones are extracted from the ground.
Our Top 5 Moissanite Engagement Rings
Moissanite in the form of ovals is the most sought-after option. Trending Moissanite engagement Rings have acquired much popularity recently and are expected to be in fashion by 2022. They shine with a stunning shimmer, sparkle, and glow, and look stunning and impressive. The elongated design makes it appear bigger on the ring finger which means you will get more value from your dollars.
Don't pass up this chance to add this gorgeous jewelry piece to your collection. The rings have been made new, and beautiful. Sizes are selling fast in order to allow room for new designs. All of our stones have been cut and polished to the most exacting standards to give the best brilliance. The eye-catching shine of this stone is amazing!
A smooth skinny oval Harper Jewelry in yellow gold plated never gets old.The petite band complements the center stone for a sophisticated, chic appearance. Sensational jewelry is an item of workmanship that will absolutely impress you.
A timeless treasure and design standard, our delicate jewelry is always appropriate for any type of occasion. Pleasant Present Plan for Christmas, Valentine's Day, Event, Wedding Event, engagement, Anniversary, and more. Similar to every one of our engagement rings, this setting is made to ensure that the ring can be flush.
This classic pear-cut engagement ring features a low-profile style. The Pear facility stone is flanked by pear as well as round cut side stine. This diamond-free engagement ring ideal for modern brides looking for an elegant pear engagement ring.
The classic solitaire moissanite ring from a wire basket with round stunning Lab Grown Moissanite. Elegant refinement shines brightly on this elegant yet simple design.
The linear contrasts draw attention from the north-south setting around the center, and then from the delicate east-west moissanite-lined bands. Set in a floating position The center is protected by four solid prongs and a basket that holds the whole thing together.
A twist engagement ring featuring two bands linked with each other: one having pavé moissanite with the various other having simply metal. The center stone is held by four claw prongs and also a delicate basket as well as 2 rounded side stones beside it!
These delicate Twist rings draw a little inspiration from the vines that are found in nature, which makes it a perfect choice for two lovers whose paths are bound to be connected. It's a great match for its counterpart Twist band.
Comment