How to Wear Moissanite Hoop Earrings
Oct 31,2022
We all recognize that accessorizing can be hard, especially if they are earrings. In this blog post, we're talking about how to wear hoop earrings as well as style them with your everyday attire. Moissanite hoop earrings can look outstanding with both informal and formal clothing when made use of well, and also you can conserve money by purchasing them through Lane Woods Jewelry.
Table of contents
The Origin of Hoop Earrings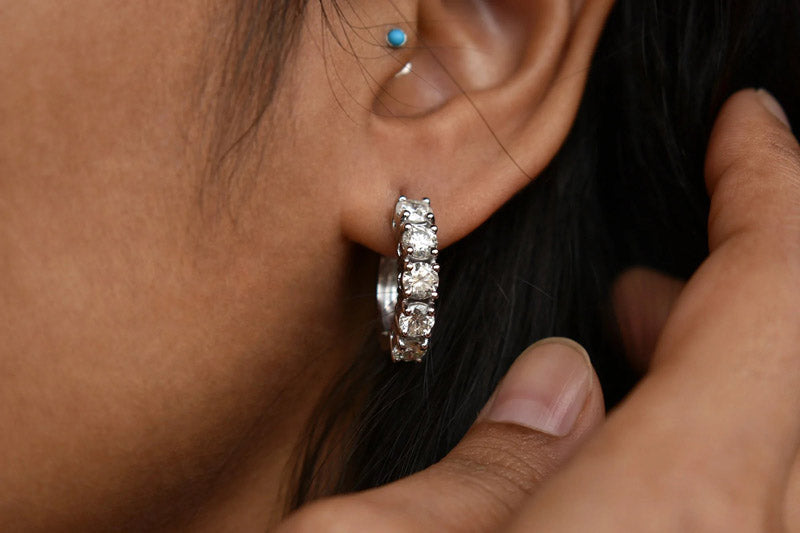 Before we proceed with ideas on how you can wear hoop earrings, we wish to explain that their history is amazing. If it ever before crosses your mind that this jewelry is not elegant or stylish, remember that Cleopatra herself wore them. The hoop earrings made their look in 2500 B.C.E. in Nubia, which means that they have actually been around for a long period of time.
Used in Old Greece, Rome, and also Egypt they were taken into consideration to be stylish as well as elegant. From Cleopatra to brands like Dior currently, they have come a long way and should have to be worn as frequently as you can.
Small-Sized Hoops
Hoop earrings have been available in many different sizes, colors, and even various shapes. You can use them for any type of event you can consider. Can hoop earrings be formal? Definitely! However, don't overdo it. You can quickly incorporate them with your suit, t-shirt, classy pants, skirt, or gown. Any type of larger, however, as well as they'll be too prominent and come to be an interruption.
Mid-sized Hoops
The mid hoop is easily trendy as well as the excellent day-to-day declaration earring. Suppose you're attending a wedding celebration, official party, or similar event where you need to look fabulous? Mid-sized hoops are a perfect choice, specifically if they collaborate with 1 or 2 various other pieces. Picking hoops with a mix of gems and beads is another way to cultivate a distinctive look.
Oversized Hoop Earrings
Along with small hoop earrings, there are extra-large hoop earrings. If you wish to use huge hoops, those will work best with casual attire. However, there's a technique: maintain the remainder of the outfit fairly simple, as well as don't wear much various other jewelry. Large hoop earrings are a means to be in the limelight. If you tie a ponytail or make a bun, you will certainly never go unnoticed. As well as if you allow your hair down you can scale down the effect a little.
How To Style Your Hair With Hoop Earrings
Choosing the appropriate hairstyle with hoop earrings can make a massive difference. If you're putting on tiny hoop earrings, try something simple like a ponytail or a bun so you can see them. Or you might additionally leave it all-natural, but bring one side behind your ear. If they're big hoop earrings, you can leave your hair down if you wish to make them look less of a statement or you can smooth your hair back if you desire to add some dramatization.
There is absolutely no reason you must not consist of various other pieces of jewelry and hoop jewelry. You can wear little hoop earrings and combine them with a pretty, sophisticated necklace. Using just a dainty necklace is flawlessly fine, yet if you add hoop earrings to the clothing you will just radiate. The earrings and the necklace do not need to be of the same color always, yet you can pair them if you want.
Check out our affordable moissanite hoop earrings.
Comment