How To Keep Necklaces From Tangling
Feb 16,2022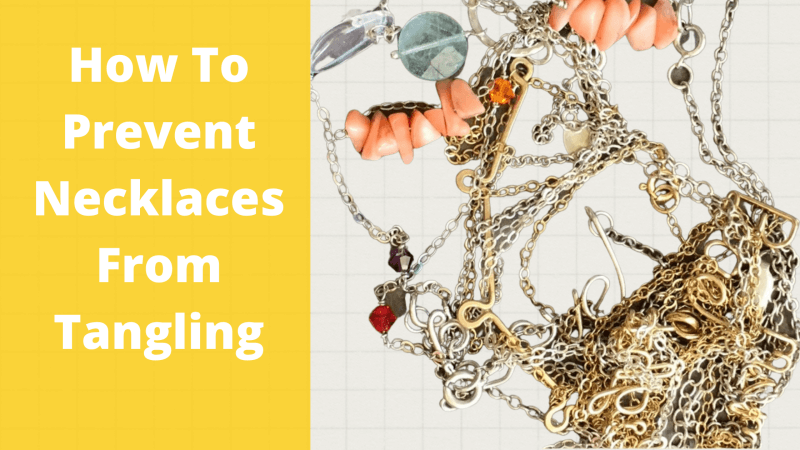 It can be annoying when your necklaces tangle. How to avoid necklaces from tangling? Well, you have come to the right place.
Keep reading the learn why necklaces tangle and how to handle it.
Table of contents

How To Store Necklaces Without Tangling

How To Keep Necklaces From Tangling On Your Neck

How to Prevent Necklaces From Tangling When Traveling
How To Store Necklaces Without Tangling
Most of us would just store lockets in small jewelry boxes, where they have a tendency to obtain all tangled up and also it's always a problem to untangle them.
The good news is for you, it need not take place again. With these straightforward DIY ideas, you can be ensured that they will be readily available for usage each time you need them. Right here they are:
Straws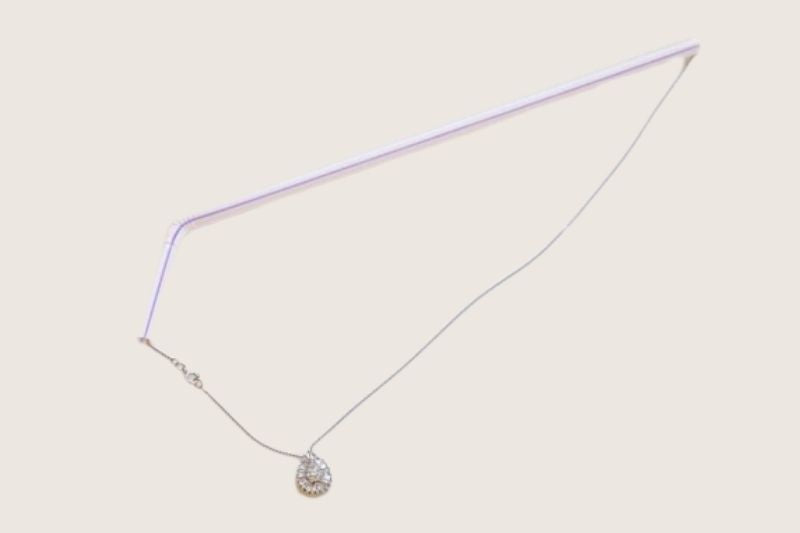 Straws are an exceptionally inexpensive and also simple means to keep your necklaces. Collect clear plastic straws as well as cut them in the half. Loop one end of the necklace via it as well as attach the hold. Once they are attached, you can then place these necklace-filled straws in a cabinet.
Toilet paper rolls
If you have a partially-used toilet paper roll, bring it to your room where your necklaces are. And you can string necklaces via the cylindrical tube and attach them once threaded via.
When it's done, buckle them back up and store the roll side on top of the cupboard. And also you can safely pack it in your travel suitcase in case you are taking place a journey.
Bear in mind to wipe down the cardboard rolls initially prior to using them.
Old business cards
You can merely have 2 tiny cuts in your old business card and secure the necklace on it, similar to how it looked like the very first time you bought it.
Aside from business cards, you can additionally utilize index cards or playing cards. This method will certainly aid your necklaces to be wrapped around the thick card snugly as well as securely.
Keyholders
Get rid of that unpleasant dump where you typically place your necklaces. Have a key holder in your cabinet and also simply hang necklaces on them like just how you put keys on each hook.
Not just will it provide you even more space for various other things and also various other jewelry on your jewelry box, seeing all these necklaces hanging on your wall will allow you to promptly choose the necklace that matches your outfit.
Bubble wrap
You need to have seen a few of those bubble packs used to shield products during jewelry delivery. Work out a little creative thinking by cutting lengthy strips and also vast strips of the material.
To pack, lay each pendant or bracelet flat on a sheet of bubble cover. Thoroughly fold in the edges, after that tape the length of the sides with sticky tape. When everything is done, close the strip over your jewelry products. It is cheap as well as an exceptional method to keep your necklaces from tangling.
Necklace stand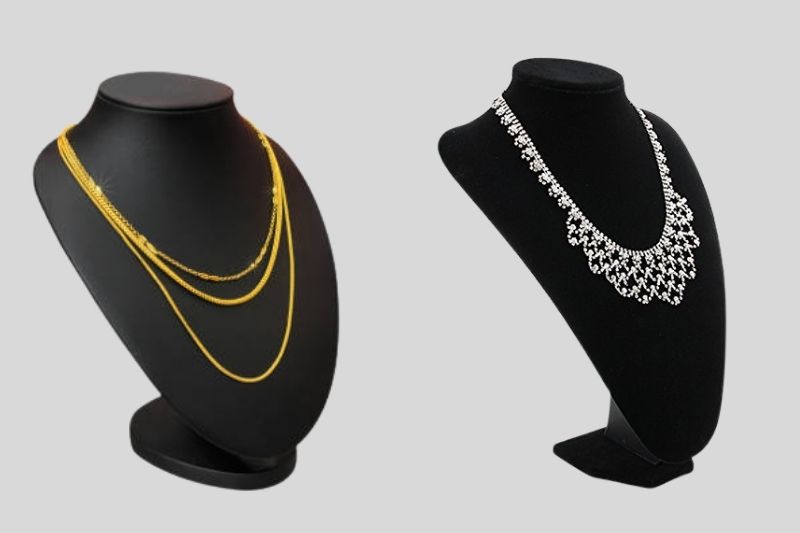 You simply hang your pendants neatly on necklace stands. You may hang numerous necklaces on one stand provided they are of different lengths to stay clear of tangling. This item additionally makes it easy to select which one to use for the event you are going to.
They are easily readily available either from your local jewelry store or you can make your own. The Internet has plenty of basic means to make necklace stands that can develop in the house.
Plastic hangers
If necklace stands don't appeal to your feeling of minimalization, use plastic hangers. They are an easy as well as minimalist means of saving as well as maintaining your statement necklaces from obtaining tangled.
You can either hang your necklace around the hook or cover them around the hanger's lower horizontal bar.
After you finish it. You can save them inside your clothes closet.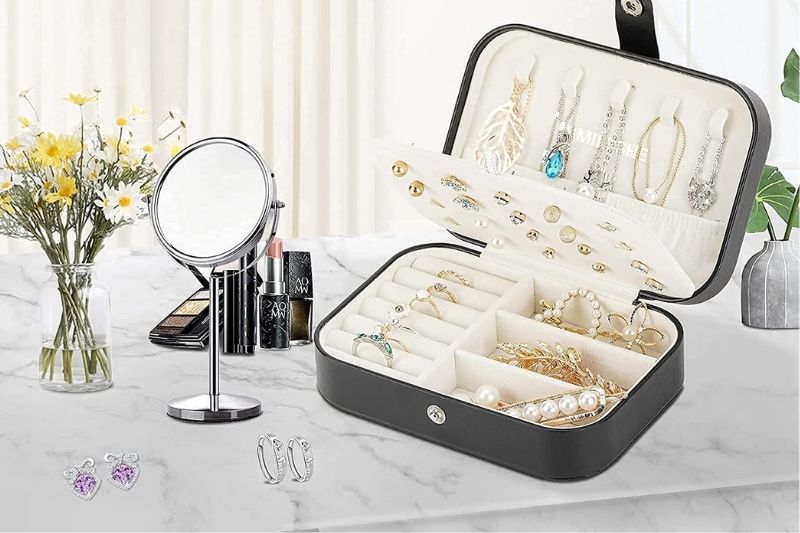 Compartment Jewelry Box
An additional fast option to avoid twisted necklaces is to position them in compartmentalized fashion jewelry boxes.
These boxes have actually compartments designed to hold particular sorts of jewelry. Plus, a precious jewelry box can typically be locked, offering your necklace an additional layer of security.
Jewelry Roll
A Jewelry Roll is a chest with a slot or bag right into which you can put jewelry products. When done, you can roll it up like a clutch.After that, you can place it in your drawer. Also, the soft jewelry rolls are wonderful for traveling.
How To Keep Necklaces From Tangling On Your Neck
Putting on a necklace appears to be an extremely simple affair. You just position it around your neck, engage the clasp and that's it.
Nonetheless, turning happens when the clasp is too heavy for the chain of your necklace and keeps on sliding from the rear of your neck out in front. To prevent this from taking place, either uses a larger necklace or put a heavyweight like a moissanite pendant.
Yet if you put on multiple necklaces, exactly how you should do so they do not entangle?
Well, we looked into comprehensive the very best tips to maintain necklaces from tangling on your neck! There is more than one method you can attempt to quit necklaces from tangling on your neck.
 Use different lengths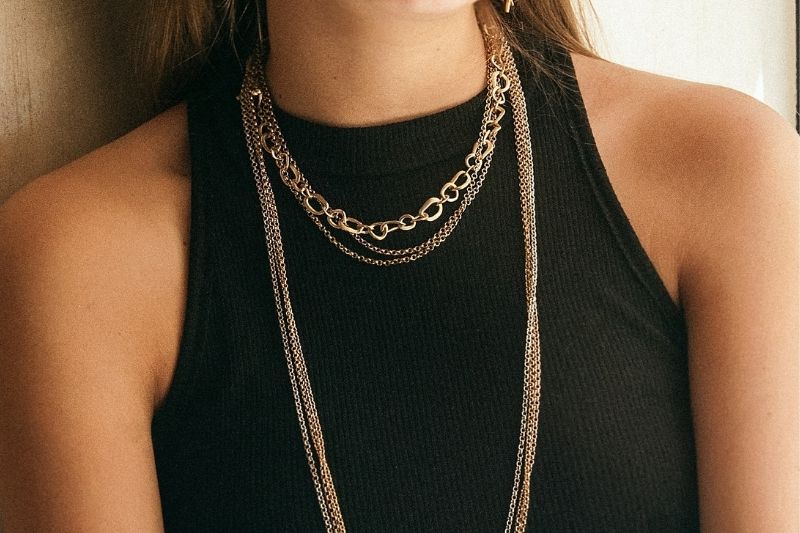 Necklaces of the very same, or almost the exact same lengths, are probably to get tangled. This is due to the fact that they are most likely ahead of contact with each other. A method to avoid this is by putting on necklaces that are of various lengths.
The bigger the difference in length, the much less likely the necklaces will certainly end up being tangled. When hanging around on your neck, there should go at least a gap of 1 to 2 fingers in between them.
Use a necklace spacer
A very easy repair is to buy a necklace spacer. Pendant spacers create a joined clasp with a hold behind your neck to affix each of your necklaces.
A necklace spacer is a sort of hold that can hold two to 4 pendants at the same time. It keeps all pendants clasped with each other.
When you unclasp them, you just need to unclasp the spacer, not the individual necklaces. They are also available in a range of products and colors, so you can acquire one that matches your necklaces.
Connecting The Pendants With Each Other
If you do not want the cost on, you can attempt linking the necklaces to themselves. Connect the clasps of one necklace to the holds of the other necklaces. Linking them together by the clasps works likewise to the necklace spacer.
This method will not constantly work, though. This might be cumbersome and impractical if you remain in a rush, or if both are slim chains.
Mixing Necklaces Of Different Weights
Just as necklaces are more probable to entangle if they are the same size, If the necklaces have the exact same weight, it will be really difficult to maintain each one apart. Try pairing a daintier, lighter necklace with a more cumbersome style.
Daintier chains with larger chains are not susceptible to getting twisted. Because heavier necklaces are less likely to move on your neck, which decreases the possibility of your necklaces tangling.
Choosing Necklaces Made From Different Materials
Another variable that increases the possibility of tangled piled necklaces is the materials they are constructed from. Necklaces that are metal chains are more likely to entangle. Layering metal chains can result in those knots that take hrs to untangle although they just took seconds to form.
So if you are using multiple necklaces, don't use necklaces of the exact same materials. Attempt pairing a fabric choker with a chain or necklaces that have various chain styles. Not just prevent tangling, but, they also offer visual results for your outfit.
How to Prevent Necklaces From Tangling When Traveling
Some suggestions for storing necklaces to prevent tangles functioning well to avoid the very same problems when traveling. Such as toilet paper rolls, straws, bubble covers. Naturally, there are additionally jewelry boxes or jewelry rolls specially made for traveling.
So what other common items at home can pack necklaces?
We suggest making use of plastic wrap or a towel to stop the necklace from tangling.
To do this, lay your necklace out on a piece of cling wrap. Once laid out, just wrap both ends inwards, and seal.
Or room your jewelry items on a spare clean towel. As soon as put, roll the washcloth lengthwise, then fold it in half.
Bear in mind to secure the sides of the towel with rubber bands.
Cling wrap, as well as towels, are 2 simple and also affordable means to wrap your necklaces. And also they can also be reused. After using the jewelry, you can simply reseal it until the following time.
How to Untangle Necklaces
Dealing with necklace knots can be actually irritating, specifically if it's a long slim chain. So right here are some tips you can utilize to untangle them.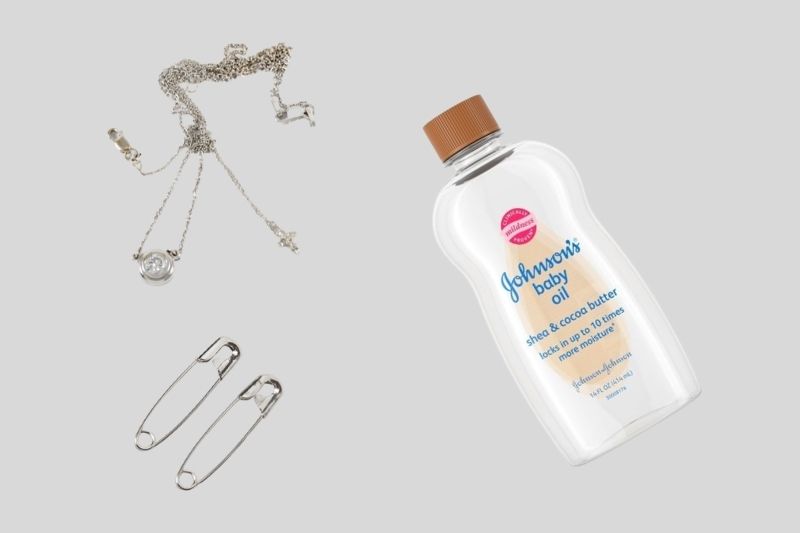 Baby oil 
The very first approach entails oiling the chain. Lay the necklace or pendants on a level tough surface and unclasp the ends. Use a light coat of infant on the tangled section utilizing a cotton swab. This will make the chain slippery and be easier to divide.
Baby powder
If you do not have infant oil or olive oil, you can try using baby powder. It is mainly comparable to the infant oil approach yet uses powder rather than oil which helps in reducing the friction in between the chain.
When your necklace is untangled, tidy the chain to eliminate the oil or powder. Make use of a mild cleaning agent as well as water or a jewelry cleaner, and then permit the necklace to completely dry.
Pin method
If the knots aren't truly bad, you might be able to go straight to making use of a needle to draw the knot apart.
Utilizing slim needles, such as stitching needles or a safety pin, poke the center of the knot as well as pull away. This will certainly help separate the knot so you can see exactly how to disentangle it.
This may take a little time and a great deal of patience to do. When both give the way a bit, attempt untangling them with your fingers.
Tangling is a common problem with multiple or stacked necklaces. We hope our article has actually given you some suggestions and you learned a thing or more concerning preventing necklaces from tangling.
Comment