How to Figure Out Fancy Colored Moissanite - The Ultimate Guide for Shoppers
Apr 21,2023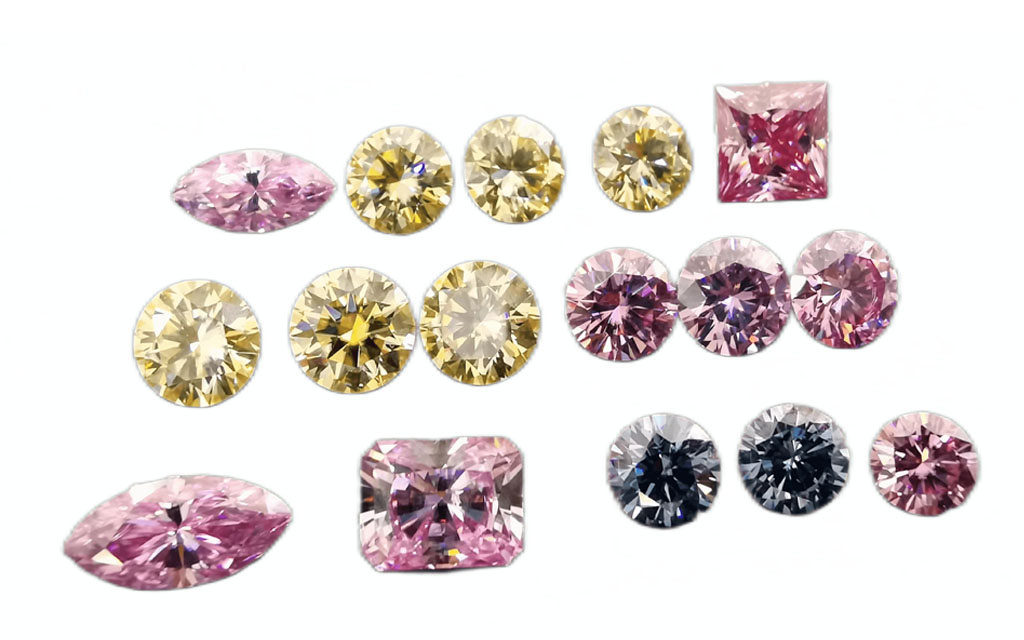 When purchasing jewelry, many consumers turn to diamonds due to their timeless beauty and durability; however, their high price point may make them unaffordable for some consumers. Luckily, there are alternatives such as moissanite gemstones that resemble diamonds but at a more reasonable cost point.
Fancy-colored moissanite offers an eye-catching way to add some extra vibrance and excitement to their jewelry collection, but with so many choices it may be difficult to choose the one best suited for you. In this article, we provide all the information necessary for selecting your ideal fancy-colored moissanite stone.\
What Is Fancy Colored Moissanite?
Fancy-colored moissanite refers to any moissanite that has been enhanced with various hues ranging from light and subtle hues all the way through to deep and vibrant. Offering something unique and eye-catching for those searching for something truly memorable and stylish.
Fancy-colored moissanite can be produced by adding different elements during its creation process, such as nitrogen or boron, for instance. Different hues may also be achieved by altering temperature or pressure during this step.
How to Select the Appropriate Color
Selecting the proper hue can be an overwhelming task, but taking some important points into account it can make this decision simpler.
Skin Tone
Your skin tone plays an integral part in determining which hue of fancy-colored moissanite will suit you best. In general, those with warmer skin tones (yellow, olive, or tan) typically look best with yellow, orange, and green hues while those with cooler tones (pink, red, or blue) generally do better in purple blue, and pink tones.
Personal Preference
Your preference should ultimately determine which color of fancy colored moissanite you select for yourself and long-term enjoyment. Pick something that evokes feelings within you that you can wear without feeling bored over time.
Consider Your Occasion
Keep in mind the occasion for which you plan on wearing your fancy-colored moissanite. If it will be used as an engagement ring, for instance, more classic and timeless hues like white or yellow may be most suitable; while for statement pieces more vivid colors may make a greater impression.
How to Assess Fancy Colored Moissanite
When purchasing fancy-colored moissanite, it's essential that you understand how to judge its quality. Here are a few points you should keep in mind when doing so:
Color Saturation
When purchasing fancy-colored moissanite jewelry, color saturation should be an integral consideration. Saturation measures how intense a color is - more saturated hues tend to appear more vivid and captivating! When evaluating its saturation value, make sure that different lighting conditions are used when viewing it for evaluation so you have an accurate representation of how its hues will appear in various settings.
Clarity
Clarity refers to how free from imperfections the moissanite is. In general, higher clarity scores mean greater value; however, it should be remembered that moissanite typically has higher clarity ratings than diamonds so having one with slightly lower clarity could not necessarily be viewed negatively.
Cut
The cut of your fancy-colored moissanite can drastically change its appearance and overall value. A well-cut stone will feature more brilliance and fire, making it more desirable and desirable. When searching for stones with this characteristic look for stones with a symmetrical cut that distributes light evenly across their surface.
Carat Weight
The term carat weight refers to the size of a stone. While larger stones may be preferred, their value will also depend on factors like color saturation, clarity, and cut. When assessing the value of your fancy colored moissanite it is important to take all these aspects into account when assessing its worth.
How to Care for Fancy Colored Moissanite
Once you've chosen the perfect fancy-colored moissanite, it is essential to take proper care in maintaining its appearance so it continues to sparkle as much as the day you purchased it.
Cleaning
For optimal cleaning results when it comes to fancy colored moissanite rings, use a soft-bristled toothbrush with warm soapy water and gentle scrub, being mindful of any prongs holding it in place or damaging either the stone itself. Rinse well after and pat dry using a soft, lint-free cloth.
Storage
When not wearing your colorful moissanite, be sure to store it in a soft pouch or jewelry box to safeguard it against scratches or any other forms of damage. Avoid storing it with other pieces that could scratch or otherwise harm the stone.
Maintenance
Proper care of fancy-colored moissanite will help make sure it looks as gorgeous as the day you bought it. Consult a jeweler every six to twelve months for professional cleaning and inspection to make sure the setting remains secure, the stone undamaged, and free from damage or imperfections.
FAQs
Are fancy-colored moissanite gemstones as durable as diamonds?
Yes, moissanite is one of the hardest gemstones and highly durable; therefore it makes an excellent alternative to diamonds for engagement rings.
Can fancy-colored moissanite be used in engagement rings?
Fancy-colored moissanite makes an exquisite and unique alternative to conventional diamond engagement rings.
How Does Fancy Colored Moissanite Differ From Diamonds?
Fancy-colored moissanite can often be more cost-effective than diamonds, making it an excellent option for those seeking beautiful gemstones at more cost-effective price points.
Conclusion
When purchasing fancy-colored moissanite, there are various considerations to keep in mind. By taking into account factors like skin tone, personal preferences, and occasion of use when selecting your stone's hue; quality measurements like saturation level, clarity rating, and cut quality evaluation provide more guidance; finally by maintaining and cleaning regularly so your stone keeps shining with beauty for many years ahead!
Comment