How to a Choose Moissanite Solitaire Pendant
Apr 12,2022
Moissanite solitaire pendants are timeless pieces of jewelry that can be worn with any outfit. It is beloved for its simplicity and beauty. And it is treasured for its enduring quality. The solitaire moissanite pendant will never go out of fashion.
You may be unsure how to choose the right moissanite solitaire pendant for you, or if you are considering buying one as a gift.
This buying guide will help you choose the perfect moissanite solitaire necklace. This post will explain everything you need about a moissanite pendant and how to choose a moissanite pendant.
Table of Contents

What is a Moissanite Solitaire Pendant

How to a Choose Moissanite Solitaire Pendant
What is a Moissanite Solitaire Pendant?
A solitaire pendant, in simple terms, is a necklace with one single gemstone suspended from a chain. Solitaire pendants can have many settings, but they always have one central gemstone. Solitaire pendants can be made with many gemstones including blue sapphires and rubies, as well as diamonds and stunning moissanite.
A Moissanite pendant is a solitaire pendant that has moissanite as the featured gemstone.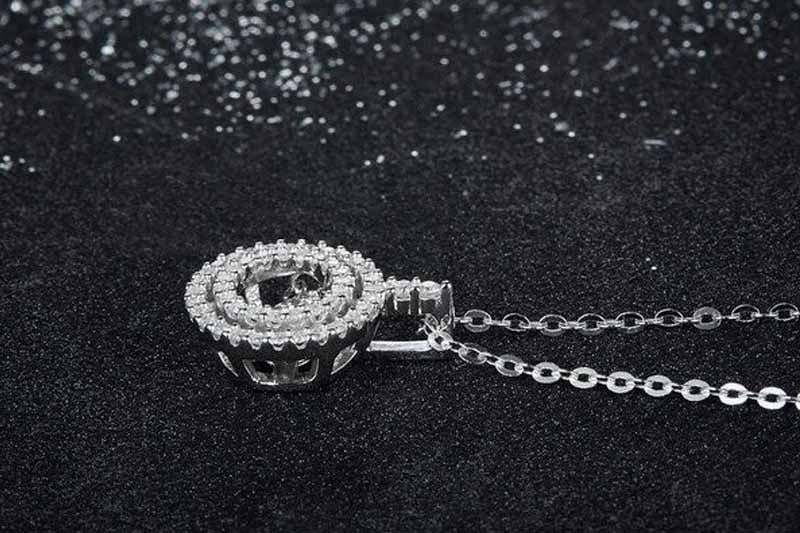 How to a Choose Moissanite Solitaire Pendant
Choosing a Moissanite Solitaire Pendant Setting
The style of your moissanite pendant will be affected by the setting you choose.
Moissanite solitaire pendants can be set in three ways: prong settings, bezel settings, and halo settings.
Prong settings are elegant and timeless, and probably what you envision when you think of a moissanite pendant. Prongs made from precious metal hold your moissanite securely in a prong setting. Prong settings allow more of the stone to be seen, making them a great choice for anyone who wants to showcase their moissanite. There are two types: 4-prong and 6-prong settings.
Prongs are not as safe as they sound. They can break or bend easily, especially if they're made from softer metals.
It is a good idea to have your prong setting inspected for any worn prongs. This will help reduce the chance of your stone falling out.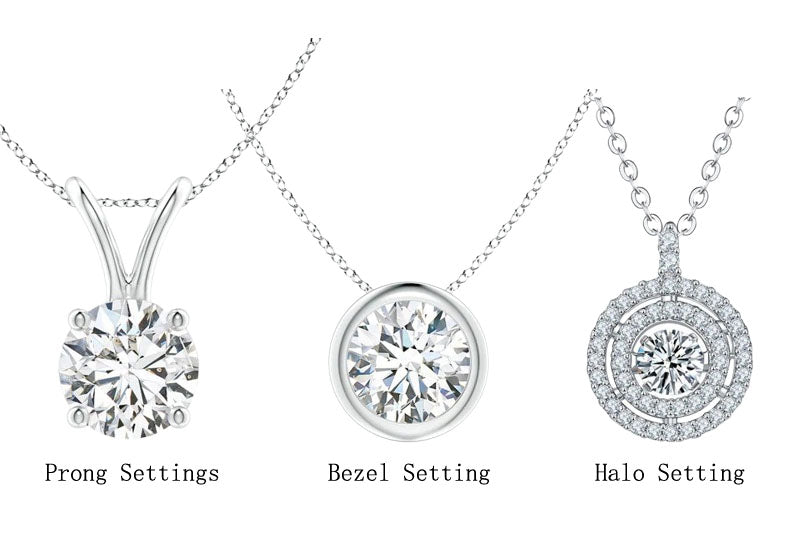 The bezel setting is next. This setting covers the stone with metal from all sides or part of it. It protects moissanite against accidental hits that might chip its edges. They also have a beautiful modern look.
The problem with the bezel setting is that it can keep more moissanite hidden in the metal. Some people believe that this causes less light to enter the stone, which in turn reduces its brilliance.
Finally, we have the glamorous halo setting. The halo setting places your moissanite at the center of a ring made of metal and is accented with shimmering accent moissanite. Your pendant will shine brighter with halo settings. They also fool the eye into believing that your central moissanite may be larger than it is. If you are looking for a moissanite pendant that has more sparkle, impact, and glamour, halo settings can be a great option.
We recommend that you look at a variety of pendant models before making your decision on the right setting for you.
Choosing a Moissanite for Your Pendant
Let's finally talk about choosing the moissanite to make your pendant. We'll first talk about shape. Then, we'll discuss quality.
The shape of your moissanite pendant will impact the style. Two of the most sought-after choices are the round brilliant cut and princess cut moissanite. You can also get fancy-shaped moissanite, such as the heart or pear shapes. You can make a timeless piece from jewelry by adding a solitaire to the setting.
If you are still unsure, choose a round brilliant moissanite that is well-cut. It is an evergreen shape and complements many styles beautifully.
Once you have decided on the shape you like best, you can now choose moissanite from this category.
The 4Cs are an objective measurement of how a diamond compares with other diamonds. Cut, color, clarity and carat are the Four Cs. Because moissanite can be lab-made, it is possible to control the color and clarity in perfect conditions. When choosing moissanite you need to pay close attention to the cut.
The cut refers to not the shape of the gemstone, but the way the gem cutter balances proportion, symmetry, and polish. How well a gemstone has been cut directly affects its beauty. The gemstone's ability reflect and refract light greatly increases when it is properly cut.
The carat weight of a moissanite gem will be less than a comparable-sized diamond. When referring to moissanite sizes, jewelers prefer to use millimeter (mm).
Your personal tastes and preference will determine which product you choose. You may choose to place more importance on quality than a carat if you value quality. If you are more concerned about the size of the moissanite than its quality, you might choose a lower-quality product with a heavier carat weight.
It is not a good idea to choose a high-weight and low-cut simultaneously.
Choosing Moissanite Pendant Size
It is important to consider the size of your pendant. Ensure that your pendant is not too small to barely be seen, but not too large to overwhelm the rest of your outfit.
Make sure the weight and dimensions of the pendant are equal to the thickness of your necklace.
A thin chain can make a pendant look unnatural. It may also cause permanent damage to the links or even break the chain.
When deciding on the size of your pendant, consider your budget. A larger pendant may require more moissanite depending on its model.
Where to Buy a Moissanite Pendant?
Just here. It is important to choose a reliable and trustworthy vendor when purchasing a Moissanite pendant. Lane Woods Jewelry has a variety of moissanite pendants. Check out our three most popular pendants.
Round Moissanite Solitaire V-Bale Pendant Necklace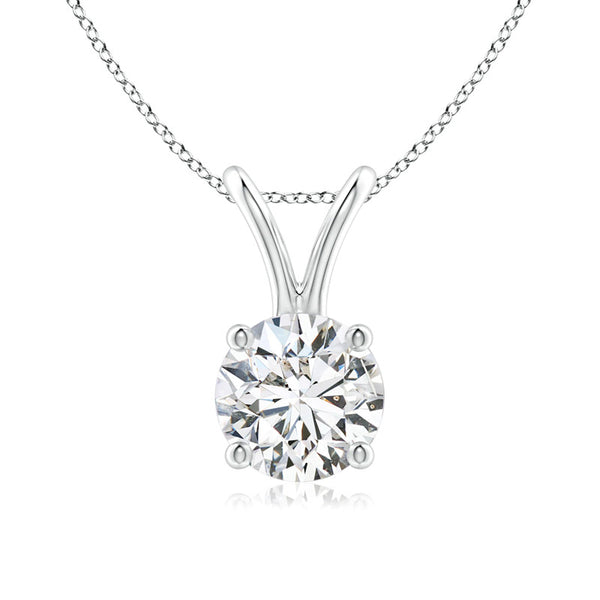 The round and also fantastic moissanite is protected in a prong setup and also twinkles like a celestial celebrity. It is held by a shiny split bale and exudes easy elegance. This moissanite solitaire necklace is crafted in s925 sterling silver.
Round Moissanite With Bezel Set Solitaire Pendant Necklace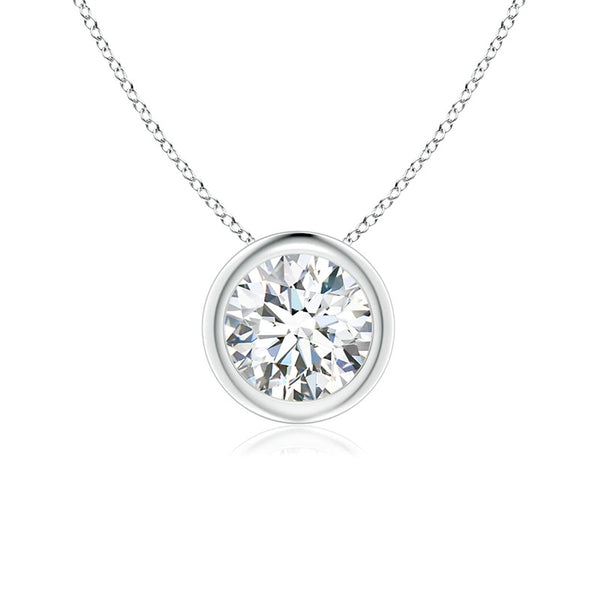 This classic jewelry moissanite pendant's attractive style makes the center stone look like it's floating on the chain. The shimmering moissanite is secured in a bezel setting. Crafted in s925 sterling silver, this round moissanite necklace makes a stylish design statement.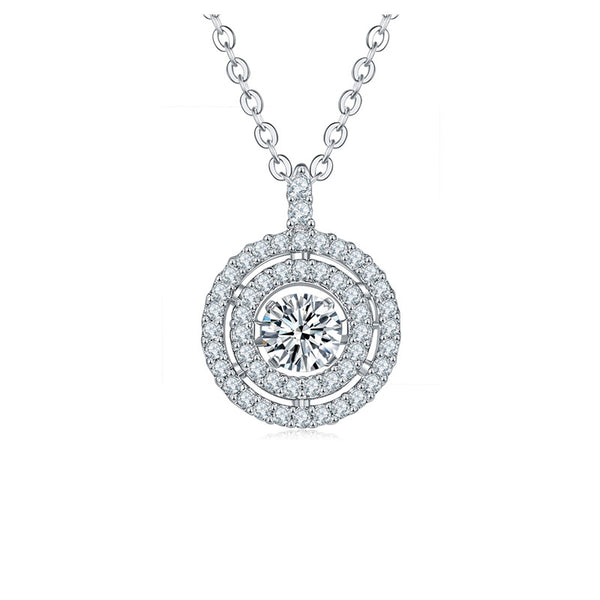 Lead moissanite twist and turn to develop a stylish halo around the center moissanite in this impressive, ocean-inspired necklace. The variety of moissanite, as well as carat weight, varies depending on the size of the center treasure.
Comment