Halo Engagement Moissanite Rings: The Complete Guide
Jul 01,2022
When people discuss engagement rings, the word "halo" is often mentioned. Halo settings become a trendy selection among new brides.
So initially, let's make it clear about what is a halo moissanite ring?
Table of contents

History & Origin of Halo Rings

Pros and Cons of a Halo Setting
What is A Halo Ring?
A halo moissanite ring is a kind of moissanite setting that includes a center stone surrounded by added gems. Halo setups can be the very same shape as the center stone, or they can be different. In addition, all sorts of moissanite shapes can be given a halo setting.
History & Origin of Halo Rings
The classic halo engagement ring these days made its launching in the 1920s when the style referred to as Art Deco ended up being famous. Certainly, halos are primarily put on round diamonds The Art Deco movement was recognized for its emphasis on symmetry and geometric patterns. Considering that the halo diamond ring includes diamond circles bordering a diamond round center stone, that was perfect for Art Deco looks.
Halos add additional glitz and also glimmer to any ring, this setup can in fact make a diamond appear as high as half a carat larger than it actually is. Scroll down to find out about the benefits and drawbacks of halo settings and different types of halo rings.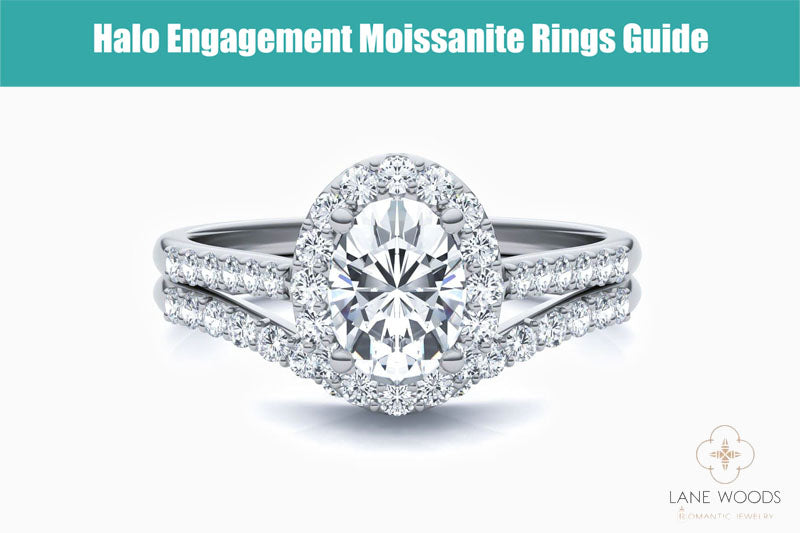 Pros and Cons of a Halo Setting
Halo Ring Pros
The Halo makes the center stone look huge, it matches the center stone well as well as makes your ring appear bigger.
Halo rings are fantastic for individuals that have a budget for engagement rings due to the fact that a halo moissanite ring can give you a bigger value. Regardless of what carat moissanite you can pay for, the halo setting will certainly constantly make it look enlarged and enhanced.
Adds overall shimmer thanks to the surrounding gems✨, may better protect and secure the center moissanite, and adds beauty and passion to a myriad of moissanite shapes.
Halo Ring Cons
The smaller moissanite stones surrounding the bigger stone fall out easily. Ultrasonic equipments are usually not suggested for cleaning up halo moissanite rings.
Resizing can be challenging with a pavé halo ring because of the little stones in the band
Different Types of Halo Rings
Stone Cut and Shape
Round moissanite engagement rings are most definitely one of the most prominent choice for halo rings. Nevertheless, there are several various other options readily available to select from.
Each shape holds an one-of-a-kind charm as well as comes with its very own characteristics. Radiant cuts, which integrate the classy emerald form with the amazing brightness of a round, can likewise offer you the extra oomph you're looking for.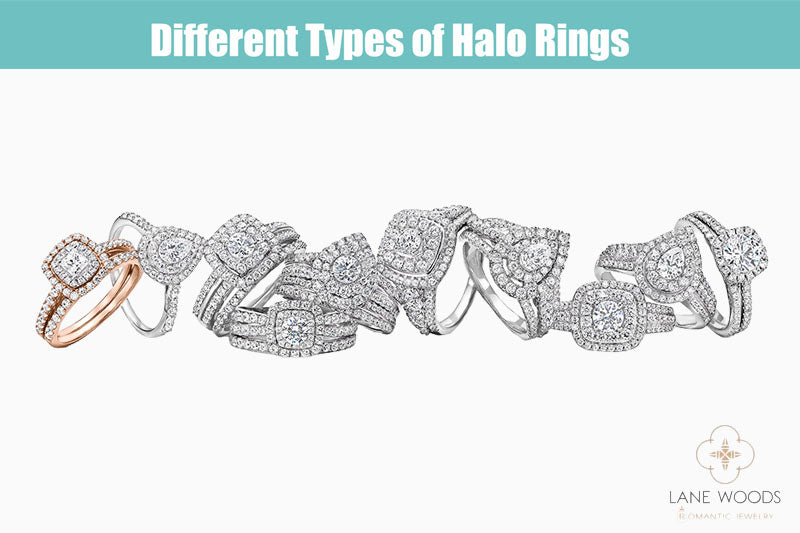 Gemstone Color
Halo rings are fantastic if you intend to include colored stones in your setup. Selecting different pavé gemstones can provide your ring a personalized look. Attractive options for pavé include sapphires and rubies surrounding colorless moissanite. Or think about the reverse: colorless moissanite stones surrounding a white opal center stone.
The Number of Halos
You can have a solitary, dual, and also atriple halo. A single halo ring setup includes a center stone surrounded by one layer of stones. A dual halo is similar to a single halo besides two layers of stones bordering the center one. And so on, each row produces the impression of larger moissanite!
The Shank of Halo Rings
If you desire layer upon layer of bling on your ring, seek a shank that has moissanite rocks in it. This appearance can be accomplished with a full or partial pavé shank.
Another option is a split shank which separates the band into two or more paths. And each of these bands can have moissanite stones also.
How to Care for Your Halo-Setting Engagement Ring?
Dust and also debris from daily wear can obtain wedged into the nooks and crannies of your halo setting ring, causing your moissanite or precious stones to look dull with time.
It is recommended that you clean your engagement ring several times a year to maintain it looking dazzling. Adhere to the listed below actions for simple at-home care:
◾ Obtain a bowl of lukewarm water as well as mix in a small amount of dish soap. It is necessary that you keep away from any kind of chlorine-based cleaner, as to avoid a chemical reaction with your ring.
◾ Place your ring right into the soapy mix and let it soak for a couple of mins to help break down the built-up debris.
◾ Using a soft-bristle brush, gently clean all sides of your ring. Proceed until you are more than happy with the result.
◾ Grab a lint-free cloth to dry your ring when you're done. This will help to make certain no watermarks are left on your halo setting ring.
Now, scroll via the stunning halo engagement moissanite rings below.
This ring embodies sophistication and style. This moissanite ring contains a 1-carat princess-cut center stone, 4 blue moissanite tiles and 8 tiny white moissanite tiles. Splendid workmanship expresses luxury. Made From S925 Sterling Silver or Gold Plated/Rose Gold.
Elegant Double Layer Design Moissanite Ring
This perfectly designed wedding collection includes a lovely engagement ring with a bright and glossy, round-cut center stone set in a halo, as well as a classy half-eternity wedding celebration band, this timeless semi-channel 925 sterling silver set will certainly maintain her pleased for endless time!
Bridal Set Round Cut Engagement Wedding Moissanite Ring
This breathtaking collection from comes full of an engagement ring showcasing round moissanite framed with smaller-sized round moissanite. Extra moissanite stones and also vintage-inspired style enhance the band and also the matching wedding event ring, which is contoured to fit together with the engagement ring.
Round Brilliant Moissanite Ring
The classic choice is usually described as the ideal cut because of its appearance as well as tempting fire and brilliance. Round brilliant moissanite inlaid with round primary stones, two horse-eye, as well as pear-shaped moissanite, surround the primary block. Create a round starburst ring.
The Taylor ring is made from S925 sterling silver and yellow gold plated. The center is made from 6x6mm princess cut permanent colorless moissanite, and the exterior is made from full-cut round brilliant moissanite.
Comment