Emerald Cut Vs Radiant Cut Moissanite: Which One To Choose?
May 10,2022
The emerald and radiant cut moissanite will look very similar. However, both cuts are different and can be worn by different types of moissanite wearers.
Due to the similarities between the two cuts, it is often difficult to choose which one to buy.
Continue reading! Let's take a closer look at the differences between emerald-cut and radiant-cut moissanite.
Table of contents

Difference between Emerald Cut Moissanite and Radiant Cut Moissanite
What is an Emerald Cut?
This design is as old as time, going back to the step cut of the 1500s. Step cuts are just as they sound-- They look like steps or stepped faces, running parallel to the stones' sides. The facets are linear and long, with the clarity, brilliance, and depth of the 57-facet gemstone naturally highlighted.
This type of cut, as the name implies, was first used on emeralds (and is still being used). Before the term "Emerald Cut", it was originally called a "multifaceted table cut" until the term "Emerald Cut" was coined in the Roaring '20s.
What is a Radiant Cut?
Henry Grossbard invented the Radiant Cut in 1977. It is a more modern style of cutting. This gem cut combines the brilliance and shape of a round cut with the elegance of an emerald. The stone's sparkle is enhanced by the 70 facets that reflect light into the center and bounce back.
It is the more sparkly and brilliant cousin to the emerald. It is the perfect blend of an elegant emerald and the sparkling sparkle we have come to expect from Moissanites or diamonds.
Difference between Emerald Cut Moissanite and Radiant Cut Moissanite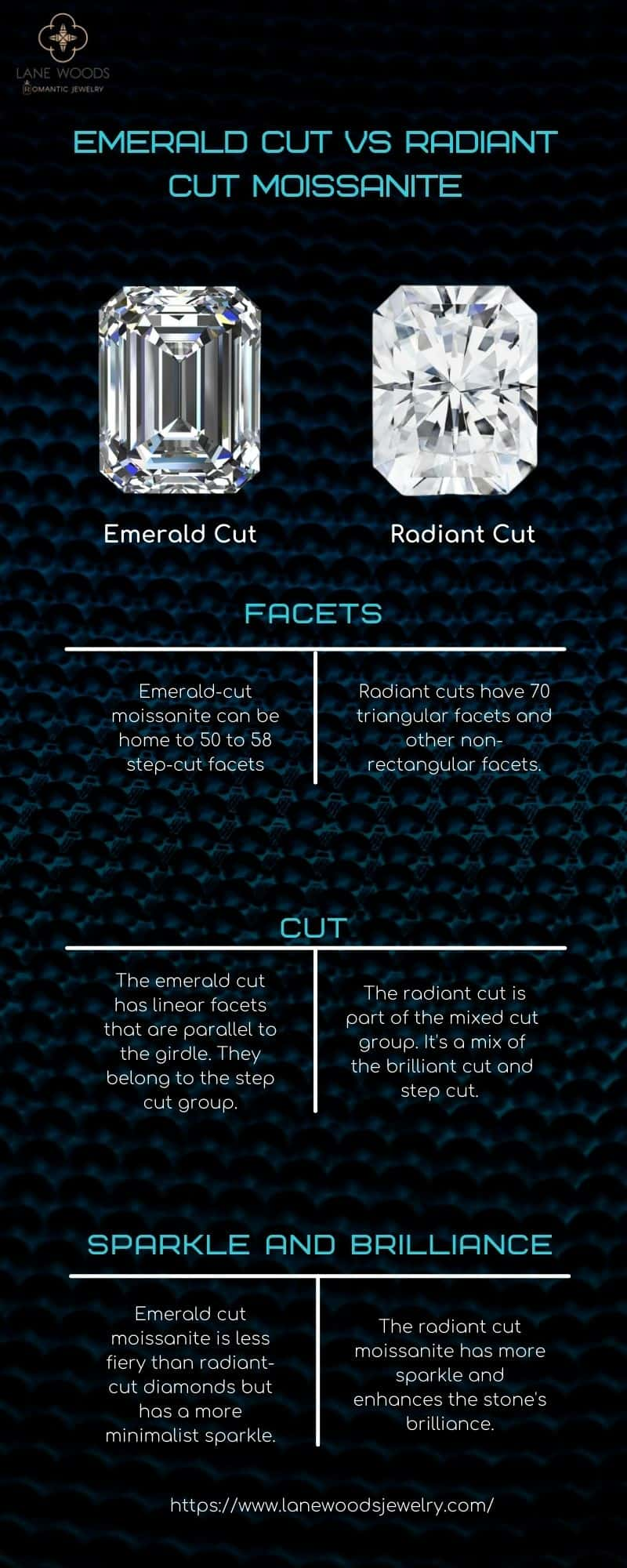 Relying on the dimensions of the gem, the emerald-cut moissanite can be home to 50 to 58 step-cut facets. Emerald-cut diamonds have facets that are parallel to each other and the girdle. This leads to the production of spectacular flashes of light which subsequently causes a "hall of mirrors" effect.
Radiant cuts include triangular facets as well as other non-rectangular facets. These facets do not appear in parallel like an emerald cut. The stone's brilliance and sparkle are enhanced by the 70 facets.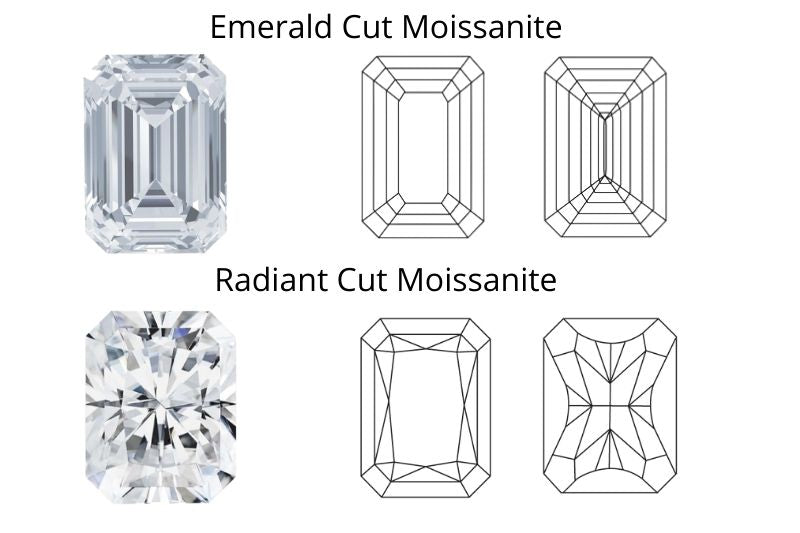 Emerald cut moissanite is rectangular with cut corners. The emerald cut has linear facets that are parallel to the girdle. They belong to the step cut group. Emerald-cut moissanite's edges are parallel, making it easier to see through them. It is therefore important to buy emerald cut moissanite that has high color and clarity.
Radiant cut moissanite is similar to the cut-corner rectangular (sometimes even square) silhouette, but instead of step-cuts. The radiant cut is part of the mixed cut group. It's a mix of the brilliant cut and step cut. Radiant moissanite's outline is a step-cut, while the pavilion and table are brilliant cuts.
If it referred to more sparkle, the radiant cut moissanite wins this round. The stone's brilliance was enhanced by radiant cut. Emerald cut moissanite, on the other hand, is less fiery than radiant-cut diamonds but has a more minimalist sparkle.
Due to the fact that the emerald-cut facets are window-like as well as not fantastic at reflecting light back to the eye. This allows people to easily spot inclusions in the stone.
Radiant cut stones are more brilliant than emerald-cut gems. This means that flaws in the stone won't be as obvious.
Step cuts should only be made with high-clarity stones. Most moissanite is a great candidate for step-cutting because of its incredible clarity.
Recommended reading: Does Moissanite Have Inclusions?
Carat Weight vs. Visual Size
Comparing the very same carat weight round cut diamond, both emerald cut and also radiant cut appear larger than their actual carat weight. As well as the difference between carat weight and the visible dimension between the emerald as well as glowing cuts is practically the almost same.
Emerald diamonds are not as brilliant as radiant cuts but require higher grades of clarity. This could mean that the price is higher. The radiant cut is brilliant and inclusions are not as apparent to the naked eyes. This allows buyers the option to purchase lower-grade stones, which in turn will mean a lower cost.
Conclusion
Although they share a similar shape, Radiant cut moissanite and Emerald-cut moissanite have different brilliance and fire. It is a matter of personal preference that will determine the shape of your engagement ring. Consider the pros and cons of each option and decide which one is best for you.
Comment