Does Moissanite Scratch Easily
Sep 28,2022
Durability is a major aspect when deciding on the best stone for your engagement ring. It's a piece of jewelry that is meant to last for the rest of your life. You might be thinking...
Does moissanite scratch? Moissanite is rated 9.25-9.50 according to the Mohs scale, which makes Moissanite one of the most durable stones on the planet. Its extraordinary toughness makes abrasions and scratches extremely uncommon, even after several years of damage and wear. However, it's not indestructible. Similar to Diamonds It is possible to chip, scratch crack, break or fracture the pieces with a stronger object or with a significant impact.
Moissanite can be an excellent alternative, but knowing how long it's likely to endure and also what benefits it can provide is crucial! Let's discuss.
Table of contents

How to Protect Your Moissanite Ring?

How To Clean A Moissanite Ring?
What Can Scratch Moissanite?
Other Gems
Diamond is much harder than Moissanite which means that diamonds can be scratched by the stone however nothing else will. Due to the risk diamonds could cause to Moissanite It is essential to make sure that you protect your Moissanite band from coming into close contact with diamonds.
Heat
What do you feel about temperature? What about heat? Moissanite Ring will beat all other gemstones in terms of resistance to heat. They even beat Diamonds in this regard. They are able to remain flawless when a fire in the house is up to 2000 degrees F. The color of the Moissanite shifts temporarily when it's heated or under a jeweler's torch, but it will return to its original color when it cools.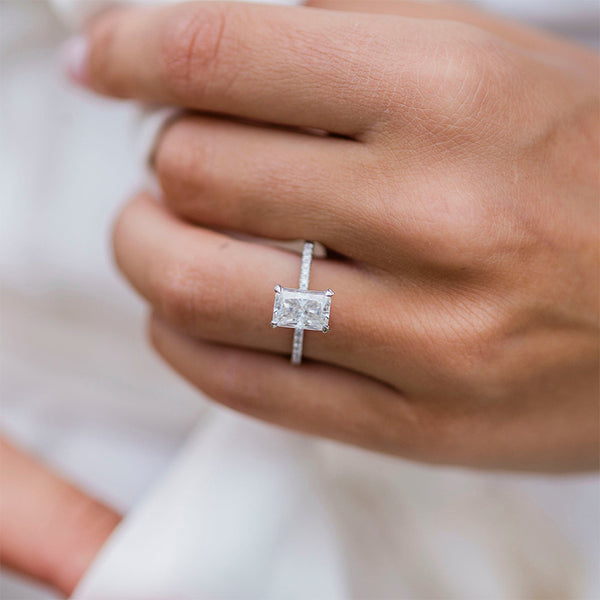 Chemicals
Although chemicals aren't likely to cause damage to the stone, they may remove some of the sparkles and dull the gemstone out.
These are harmful chemicals that can be found in items like hairspray, and household cleaner items, among other items that are used in everyday routine.
How to Protect Your Moissanite Ring?
If you're still searching for the ideal Moissanite ring, you could deliberately choose a setting more secure for the stone set. It's not so much about the Moissanite being stable but more about the materials used to make the setting. If you select high-quality silver or gold as you would with any other gemstone, then the jewelry will last for a lifetime.
Prevention is the best method of security. It is recommended that you take your ring off prior to taking part in any activity or hobby which could pose a threat. House cleaning and yard work are two things that rings are frequently removed to protect. If you're someone who loves to hike or box, or any other task that requires your hands to work against rough surfaces and force it's best to take the rings off.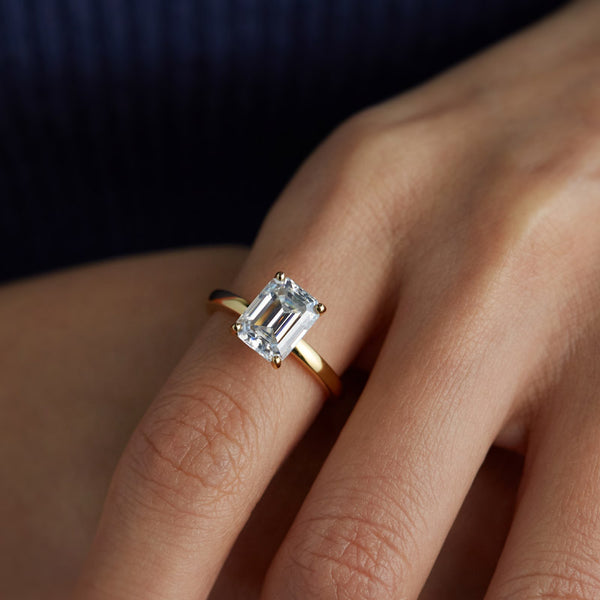 Emerald Moissanite Solitaire Ring With Four-Claw
How To Clean A Moissanite Ring?
The most attractive features of moissanite are its excellent refractive index as well as its unbeatable sparkle. However, you might be noticing in time, your moissanite hasn't been shining as it did in the past. Be assured that an accumulation of grime gradually is normal and an indication to tell if your jewelry is in need of a cleaning.
Fortunately, cleaning your Moissanite is done quickly at home and does not require any special cleaning products. All you require to complete the task is a small container with warm water and a small amount of dish soap that is clear. That's it!
Simply follow the directions in the following article and your stones will sparkle just like new within a few just a few minutes!
Allow your ring to soak for several minutes in warm soapy water.
After the dirt has had the chance to come off and the ring is clean, gently scrub it and the stone with a soft toothbrush until the stone is clear.
Dry the ring thoroughly and stone using a clean, lint-free cloth.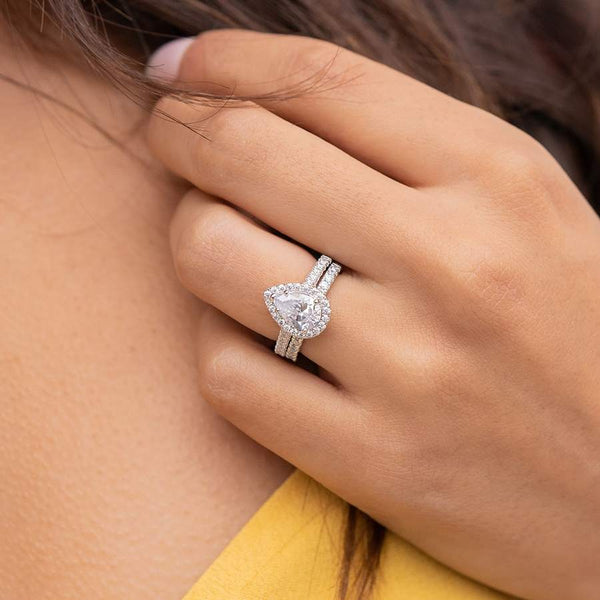 Gorgeous Pear-Shaped Moissanite Ring Set
In Summer
Moissanite is a premium genuine stone that will not scratch easily. Moissanite is composed of the chemical substance silicon carbide (SiC) that is extremely strong, resistant to abrasion, and is the ideal stone that will last as your engagement ring, or wedding band.
Cracking, chipping, scratching, and breaking are all feasible however they're extremely unlikely considering the properties inherent to Moissanite and the inherent tendency that people tend to safeguard a piece of jewelry that is very special to them. Moissanite is almost impossible to become an heirloom stone that can be handed down to your kids and grandchildren as long as you do not abuse it.
Comment