What Is The Difference Between Moissanite And Morganite?
Apr 15,2022
You might have seen the morganite and moissanite rings through social networks. Since both words sound quite alike, it is possible to confuse these two words.
Continue reading! This article will explain the differences between moissanite  and morganite.
What is Moissanite?
Natural Moissanite is much rarer than Morganite. The first time it was discovered, it happened within Canyon Diablo, Arizona by Henri Moissan in 1893.
At first, he believed that the stone he found could be diamonds, the scientist eventually identified the mineral to be silicon carbide. The stone was called Moissanite in honor of the Chemist Henri Moissan.
Due to its rarity and its rarity, in fact, all Moissanite that is used in jewelry is created in a lab.
What is Morganite?
Morganite is a natural stone that was discovered off the coasts of Madagascar in Madagascar and California by a gemstone expert, George Kunz. The stone is named in honor of American businessman J.P. Morgan. Morgan was a close friend of Kunz Kunz and was a passionate patron of the sciences.
The majority of the mineral is mined by Madagascar and Brazil however it is found throughout Afghanistan, China, Africa, Russia, and the United States.
Morganite is an effervescent pink variant of the mineral beryl. Aquamarines and Emeralds are both varieties of beryl, but beryl is also available in different forms and in different colors like blue and orange. It can also be found in pink too.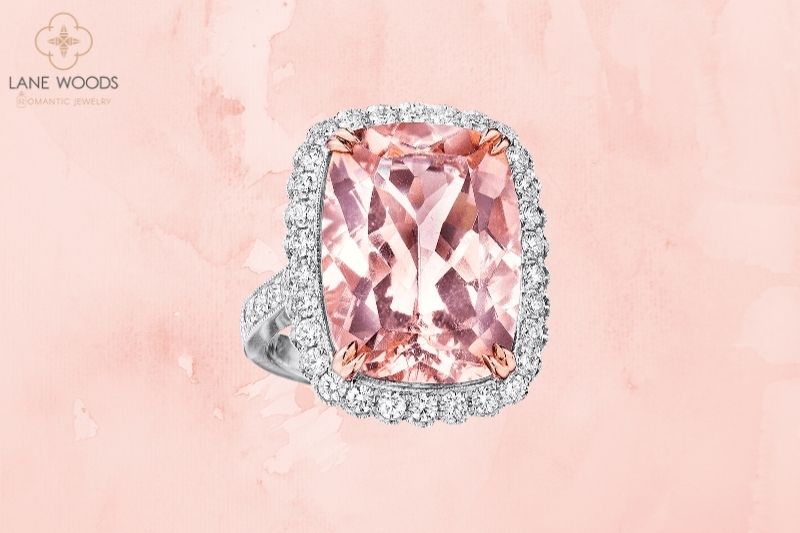 The Difference Between Moissanite and Morganite
Color
Moissanite is a gemstone that naturally appears in shades that range from transparent and colorless to various shades of brown or yellow. Lab-created Moissanite can be clear and high-quality stones can be difficult to differentiate from non-colorless diamonds. They are also able to be colored using a variety of methods to give almost any color you'd like.
But be aware that the coating is likely to scratch and peel off over the course of a lifetime.
Morganite is available in a variety of pink shades, ranging from orange pink to pale baby pink. Based on the clarity and variations the color can be more prominent orange tones, to the most sought-after colors shades, which are pinker. The more deep and perfect cuts will bring the pink tones more, whereas the shallow cuts show more prominent salmon and orange tones.
Durability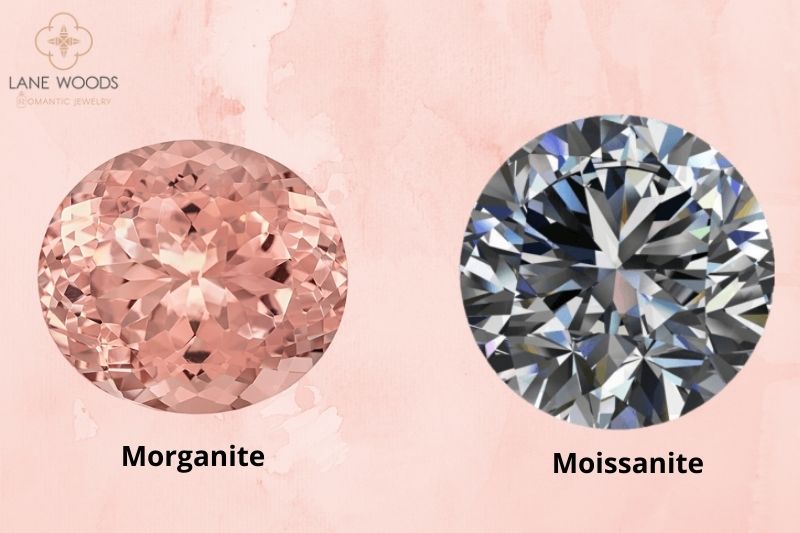 Most people are aware that diamonds are among the most robust stones you can get. The tough stone scores an exemplary 10 on the Mohs scale of hardness. How do morganite and moissanite stand up to each other?
In the Mohs Scale, Moissanite is graded as a 9.25. It is the second-highest rating after diamonds. It's an extremely durable gem that is scratch-resistant. It is able to withstand more extreme temperatures than diamonds and is well-protected against the elements and chemicals.
Morganite isn't as durable as moissanite and is rated somewhere between 7.8 between 8 and 7.8 on the Mohs hardness scale. Although Morganite isn't classified as to be a soft material, the stone is a lot softer than Moissanite. This means it's more likely to get scratch marks that happen as they go through your daily routine.
It is necessary to be extra cautious when dealing with Morganite. Its distinctive pink color is also affected by the presence of chemicals and therefore avoids contact with hydrofluoric acid.
All Beryls are to be a bit sensitive to extreme temperatures. The color of the stone can change in the presence of temperatures above 932 degrees F. Although it will not affect how you wear your ring jewelers should be aware of the use of soldering irons on Morganite and the other components belonging to Beryl. Beryl family.
Sparkle
A sparkle is a place where Moissanite is found. It's a place where Moissanite and Morganite are quite different. In reality, Moissanite sparkles more than Morganite and has more color than Morganite. As compared to morganite has a more intense rainbow sparkle that will appear like an explosion. If cut properly, Morganite is stunning and shimmers however not as much as Moissanite.
Cuts make a huge impact on how stunning the gemstone will appear. In fact, cut is the most important factor to consider. In reality, it's the most important consideration. The emerald cut is stunning however, it's designed to show your clarity and the beauty of the stone and not the sparkle. Be sure to select the cut that highlights the characteristics you'd like to showcase the most.
Price
If you're looking for alternatives to diamonds in order to reduce costs, morganite and moissanite are cheaper than diamonds. They are both less expensive. The price per carat for both of these stones is less than diamonds created in labs.
And the prices are similar between these two types of stones.
If you are looking for a sparkling white gemstone that sparkles, then moissanite is worth it. If you like the pink hue of Morganite and do not want to shell out the money it takes to purchase a Fancy shade of pink diamond and Morganite is a good option for you.
As Diamond Alternatives
There aren't many people with the funds to invest in an expensive diamond ring. Moissanite and Morganite rings can be just as stylish as diamonds and will allow you to remain within your budget. They'll transform your wedding into a unique and distinctive event. If, however, you're searching for something that is as a diamond could, Moissanite would be a superior choice. With regards to appearance and durability, it's likely the best diamond-like imitation available.
Comment