Can I Choose Silver Metal For My Wedding Ring?
Sep 22,2022
A few people are unable to choose the wedding rings they want. An eternity band is a major investment to be made after careful consideration. Many couples are in the market for wedding rings made of sterling. However, you might face issues such as: Should I use silver as my wedding ring? The simple answer is yes, it's a good choice in the case that it's appropriate for you.
If you're thinking of making sterling silver your wedding ring of choice check out this overview of the characteristics of this metal, as well as its advantages and disadvantages.
Table of contents

What You Should Know About Silver Wedding Rings?

Types of Silver Used in Wedding Rings
What You Should Know About Silver Wedding Rings?
Silver has been valued for centuries and was once thought to be more precious than gold. Today, it's one of the most affordable of all precious metals. Sterling silver is really pure silver blended with copper or various other steel to make it a lot more durable. Although it's harder to work with than pure silver, it's one of the soft metals and is susceptible to being easily scratched and marked.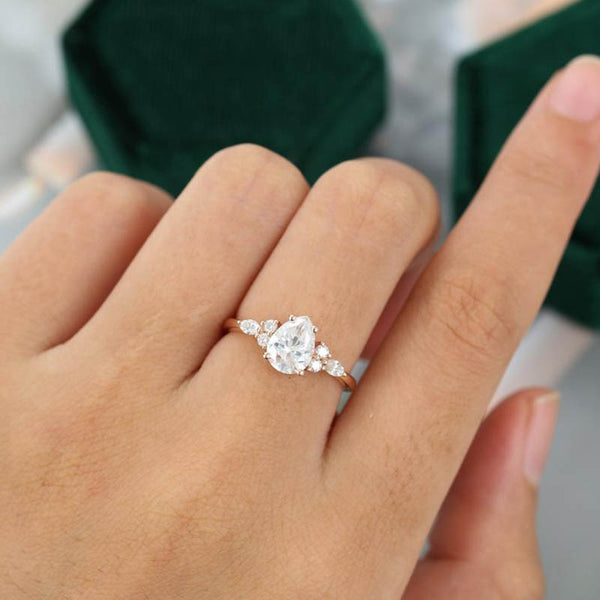 Women Vintage Moissanite Promise Ring
Whatever metal you pick for your wedding ring be sure to consider how you live the person wearing it. Are you a bit rough with your jewelry? Are you working using your hands? Are you participate in strenuous activities, outdoors, and even in health care or mentor? All of these factors have a huge influence on how the material of your wedding rings will stand up. Some people like the fact that silver ages and gathers marks from wear and tear. However, many aren't thrilled with the idea of their wedding rings appearing 20 years old within one year.
If that's your feeling I would suggest you choose the more durable metal, like white gold. The wedding rings made of sterling silver last less than platinum or gold due to the inherently physical nature of this metal. Dents and scratches to the metal can be easily seen in wedding rings made of silver. All metals wear over time, however, silver will go through the process more quickly.
Types of Silver Used in Wedding Rings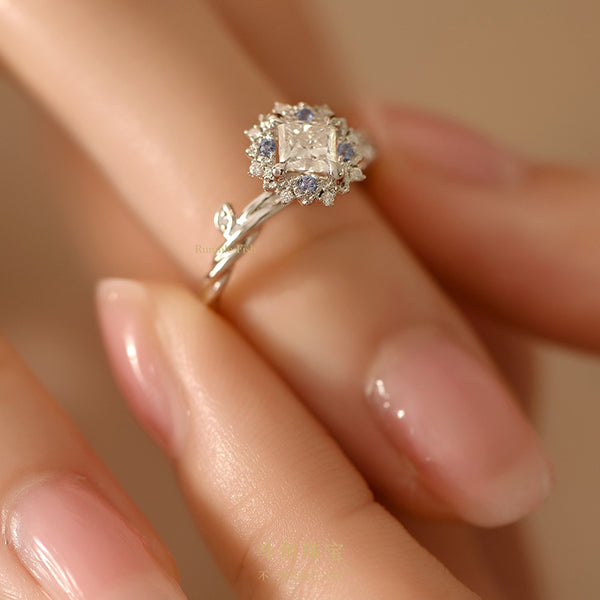 There are many different types of silver. Did you have any idea? Silver that is pure and untreated, it's the softest of the silver metals. It's stamped with 999 on the side. In addition, the fact that pure silver is seldom utilized in jewelry.
Fine Silver is as close as pure silver. It is made up of 99.9 percent silver, and 1% of other alloying elements, mostly copper. It's stamped with .999 as well as .999FS. This type of silver is hypoallergenic, which means it will not cause an allergic reaction. Although it is expensive certain people like its stunning silvery-white appearance.
Sterling silver, which is the most widely used standard in the industry, is made up of 92.5 percent silver and 7.5 percent metal alloy (look for the quality standard stamp 925 that it indicating 92.5 percent purity). It is the whitest of the precious metals and is sought after for centuries because of its elegant finish and variety of applications. Although it is more hard than gold, it's still malleable and flexible enough to allow hammering into many different shapes and forms.
A few sterling rings are plated with a thin layer of pure silver, giving it that highly reflective appearance we love with this metal. It produces a shiny appearance. Rhodium, a white metal can be used to plate sterling silver, giving it that white, shiny appearance. Rhodium plating -- with proper care -- sterling silver jewelry will keep its polished, shiny look for many years, before suffering corrosion.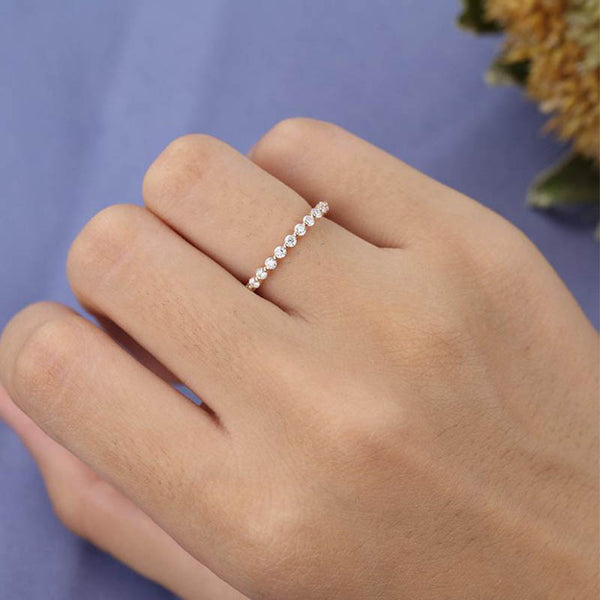 1.8mm Moissanite 3/4 Eternity Band Anniversary Ring
Get Your Budget
Many prefer silver due to it is priced much less than other metals. This is a great benefit for couples who are. Weddings can be expensive, and for some, adding an expensive ring to the cost isn't an alternative. A lot of people who opt for silver wedding bands are planning to wear them only for a few days before purchasing new ones to commemorate their anniversary. It's important to remember that it's not a good idea to pick silver wedding bands in the event that your hands are exposed to rough treatment. You don't want to end up unhappy with the wedding ring you choose.
One thing to remember is that the engagement ring and wedding ring are likely to be worn together and we'd recommend using the identical material for the two rings. This is because certain metals are more durable than others, so this can reduce wear and wear.
Comment