Alternative Moissanite Shape: A New Era in the World of Moissanite
May 06,2023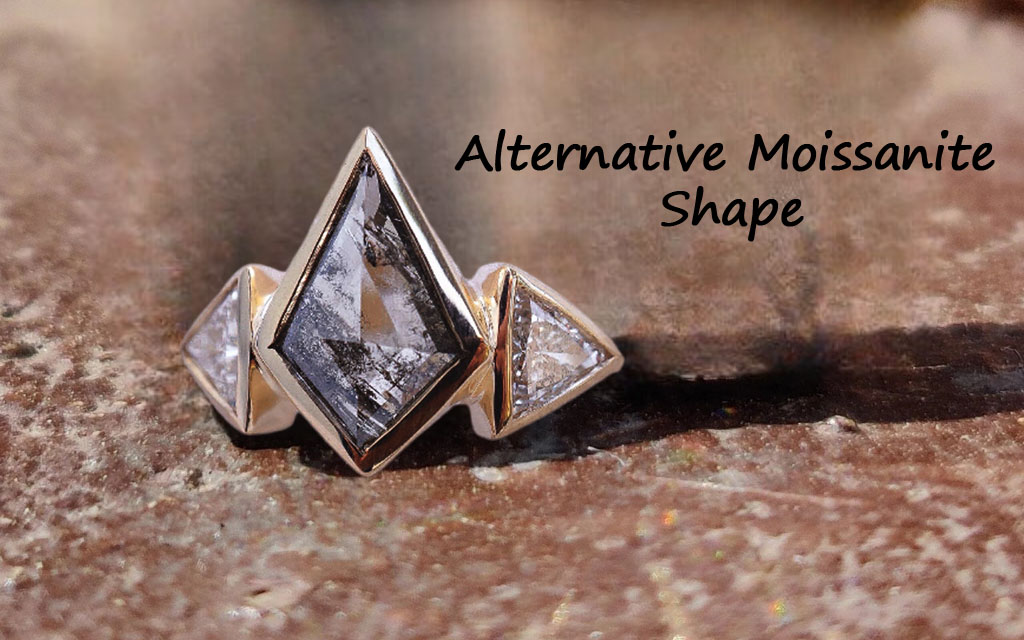 Alternative moissanite shapes are non-traditional shapes that have gained popularity in recent years. These shapes offer a new perspective to moissanite lovers who seek something different and unique from traditional moissanite shapes. While the round brilliant cut remains the most popular moissanite shape, alternative moissanite shapes are gaining attention for their unique appeal and exquisite beauty.
Before we delve into the various options available for moissanite shapes, let's first discuss the fundamental shapes that are commonly found in most retail jewelers. Surprisingly, there isn't just one standard shape; there are ten distinct shapes available. Among these shapes, the round moissanite stands out as the most popular and commonly used moissanite shape, comprising more than half of the engagement rings available in the market. Due to its widespread use, round moissanite tends to be more expensive than other shapes. Apart from the round moissanite, there are nine other standard shapes, which include the princess cut, emerald cut, Asscher, oval, cushion, pear, marquise, radiant, and the polarizing heart cut moissanite. These ten shapes are commonly encountered in the market, but there are still many more available. Let's take a closer look at some of the other options available:
Trillion Cut Moissanite
Trillion-cut moissanites have triangular shapes with straight or curved sides. The moissanites have between 31 and 50 facets depending on their cut. This allows them to sparkle and shine. This cut tends to be shallower than other moissanite shapes, making it appear bigger than its carat weight.
Most often, you'll see them used as side stones to larger, more show-stopping moissanites. They create a nice transition between the large stone and a thin band. And they cover a lot of fingers. This is a great way to use them.
Trapezoid cut moissanites
Trapezoid-cut moissanites have four sides: two parallel and two nonparallel. The non-parallel side is angled and gives the moissanite a unique look. Trapezoid-cut moissanites can be used to complement other moissanite forms, like round or princess-cut moissanites. Trapezoid-cut moissanites are also used as the center stone of a piece.
We recommend that you match the style of your center Moissanite to create a consistent look.
Kite-Shaped moissanite
Kite-shaped Moissanites are a type that has four straight sides. Two of the sides form a point on one end, and the other two sides form two smaller sides. The kite-shaped shape is asymmetrical and has pointed corners. It's called Moissanite. Kite-shaped moissanite has the same number and shape of facets as round brilliant-cut moisturesanite.
Kite-shaped Moissanite is a moissanite with a distinctive and striking shape. The asymmetrical form and pointed corners of this moissanite make it a favorite among those who are looking for a moissanite to stand out.
Lozenge cut moissanite
Lozenge-cut moissanite has an elongated, unique shape with pointed end. The lozenge-cut moissanite looks like a kite, except that the horizon is centered and so are both of its elongated ends. Lozenge cuts are not as common as some other moissanite forms, but they're still very sought-after by those who love their uniqueness and elegance.
Shield shape
The shield-shaped moissanites get their name because of the similarity between their shape and that of a warrior's shield. This cut, which is usually 5 or 7, gives the impression that a moissanite has a side profile. However, it can have slight variations in length to width ratios.
The unique moissanites are used as side stones for engagement rings. Their pointed end runs down the shank of the ring, while the wide end is placed near the center gemstone. Shield moissanites, with their unique shape, are ideal for pendants and earrings.
Shield-shaped moissanites, in addition to being beautiful and versatile, are also a great choice for those looking for a unique alternative to the traditional moissanite cut. Shield-shaped moissanites are a striking choice for engagement rings or jewelry collections.
Epaulette shaped
Epaulet-shaped Moissanites have several unique features. The shape is similar to a military epaulet. It has a flattop and tapered edges that look like shoulder ornaments on military uniforms. The traps are usually wider and squatter, with a point on the bottom. They are stunning side stones for a three stone engagement ring. And they come in many different sizes to match the center stone.
Moissanite shapes in jewelry design
Jewelry designers have a rare opportunity to show off their creativity with alternative moissanite forms. These shapes offer a new perspective on moissanite jewellery, allowing designers the opportunity to create bold pieces that are different from traditional moissanite.
The alternative moissanite forms are flexible and can be used in a variety of jewelry designs including engagement rings and necklaces. They also work well with earrings and bracelets. These designs offer a modern and fresh twist to classic moissanite jewelry, which makes them a favorite among those looking for something unique and different.
Conclusion
Alternative moissanite shapes offer a unique and personalized approach to moissanite jewelry, allowing for creativity and innovation in jewelry design. They provide a different personality and style than traditional moissanite shapes, making them a popular choice for those seeking something different and unique. Whether you are looking for an engagement ring or a piece of jewelry that represents your individuality, alternative moissanite shapes offer a fresh and modern twist on classic moissanite jewelry.
So, if you are looking for something unique and different, consider the Alternative Moissanite Shape for your next Moissanite jewelry purchase.
Comment